Performa/Performa Plus Display
Introduced: September 1992
Terminated: July 1994
Description
The Performa/Performa Plus Display was a 14" display with a 13" viewable area. The color screen was capable of displaying 32,000 colors with a resolution of 640 x 480 and a DPI of 67.
History
Designed to be shipped with the Macintosh LCII when it was being packaged as one of the various Performa models, the Performa/Performa Plus Display was a standard Shadow Mask CRT display.
Photos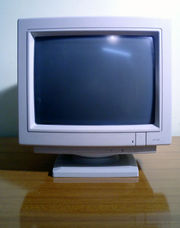 Specifications
Type: Shadow Mask CRT
Size: 14"
Viewable Area: 13"
Connection: DB-15
System Requirements: Macintosh computer
Integrated Audio: None
Ports:—
Power: 85 W
Mounting:—
Weight and Dimensions (US): 35 lbs., 12.75" H x 13.9" W x 14.75" D
Weight and Dimensions (Metric): 15.9 kg, 32.4 cm H x 35.3 cm W x 37.5 cm D
Colors: 32,000
Viewing angle:—
Brightness:—
Contrast ratio:—
Response time:—
Pixel pitch:—
DPI: 67
Resolutions: 640 x 480 @ 66.7 Hz
Timeline
Introduced in September of 1992, the Performa/Performa Plus Display was discontinued in July of 1994.
Videos