Newton Message Pad 100
Introduced: March 1994
Terminated: April 1995
Description
Physically, the Newton Message Pad 100 was identical to the original. The main improvement lay in the handwriting recognition software and fixing other bugs.
History
After the initial problems with the Newton Message Pad, Apple quickly released a new model with improvements to the vital handwriting recognition. The price was also dropped to $499.
Photos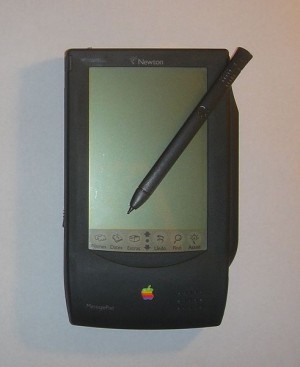 Specifications
Processor: ARM 610 RISC
Processor Speed: 20 MHz
Memory: 4 MB ROM, 640k RAM
Display: 336 x 240
System Software: Newton OS 1.2 - 1.3 (English, German)
Weight and Dimensions (US): 0.9 lbs., 7.25" H x 4.5" W x 0.75" D
Weight and Dimensions (Metric): 400g, 184.75mm x 114.3mm x 19.05mm
Ports: LocalTalk RS422 with RS232 emulation, SHARP ASK Infrared
Memory Card: 1 PCMCIA-Slot II
Power: 4 AAA or NiCd re-chargeable battery pack or external power supply
Operating Temperature: 0 to 40 deg. C (32 to 104 deg. F)
Storage Temperature: -20 to 60 deg. C
Transport Temperature: -20 to 70 deg. C (-40 to 149 deg. F)
Relative Humidity: 5 - 95%, non-condensing
Altitude (US): 10,000 feet
Altitude (Metric): 3,000 m
Timeline
Introduced in March of 1994 the Newton Message Pad 100 was discontinued in August 1995.
Videos