Monitor II
Introduced: 1984
Terminated: 1985
Description
Monitor II was designed to go with the Apple II line of computers. It offered a higher resolution and better quality, although it was still a 12" green monochrome screen. The Monitor II featured a screen that could be tilted for the best viewing angle.
History
Prior to the release of Monitor II, most Apple users had plugged their Apples into a television screen. Although the Apple III had been a failure, Apple had seen the advantages of offering displays to their users and released a display that went with the more successful Apple II line.
Photos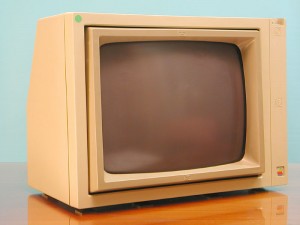 Specifications
Timeline
The Monitor II was produced from 1984 through 1985 when it was replaced by newer models.
Videos