Message Pad 2000
Introduced: March 1997
Terminated: February 1998
Description
Running a StrongARM SA-110 RISC processor at 162Mhz, the Newton Message Pad 2000 had 8Mb of ROM and 5Mb of RAM. It also featured a 480 x 320 grayscale, backlight screen. Ports included a dual mode infrared, IrDA and SHARP ASK, Interconnect, LocalTalk, Audio I/O, Autodock, Phone I/O.
History
A major upgrade over previous models, the Message Pad 2000 featured a processor that was about ten times faster than the previous Message Pad. It also had twice the amount of RAM, a larger screen and better resolution capable of grayscale. In addition, it featured a number of different ports, giving it better connectivity.
Perhaps the biggest improvement in the Message Pad 2000 was the handwriting recognition, which finally began to approach the accuracy rates promised in the earlier Newtons.
Photos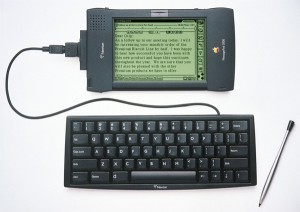 Specifications
Processor: StrongARM SA-110 RISC
Processor Speed: 162 MHz
Memory: 8 MB ROM, 5 MB RAM
Display: 480 x 320 16-bit greyscale w/ backlight
System Software: Newton OS 2.1 (English and German)
Weight and Dimensions (US): 1.4 lbs., 8.3" H x 4.7" W x 1.1" D
Weight and Dimensions (Metric): 640g, 210.3mm x 118.7mm x 27.5mm
Ports: Dual-Mode Infrared port; IrDA and SHARP ASK, Interconnect Port; LocalTalk, Audio I/O, Autodock, Phone I/O
Memory Card: 2 PCMCIA-Slot II, 3.3V ' 5V
Power: 4 AA or optional NiMH re-chargeable battery pack or external power supply
Operating Temperature: 0 to 40 deg. C (32 to 104 deg. F)
Storage Temperature: -20 to 60 deg. C
Transport Temperature: -20 to 70 deg. C (-40 to 149 deg. F)
Relative Humidity: 5 - 95%, non-condensing
Altitude (US): 10,000 feet
Altitude (Metric): 3,000 m
Timeline
The Newton Message Pad 2000 was introduced in March 1997 and discontinued in February 1998.
Videos