Macintosh Server G4 (QuickSilver 2002)
Introduced: January 2002
Terminated: August 2002
Description
There were two configurations available for the Macintosh Server G4 QuickSilver 2002. The low-end configuration ran at 933Mhz, had a 80Gb hard drive and 256Mb of RAM. It was equipped with a CD-RW drive. The high-end model ran dual 1.0Ghz processors, had a 72Gb hard drive and had 512Mb of RAM. It also had a CD-RW drive. Both models had an optional Zip 250.
History
The latest edition of the Macintosh Server G4, the QuickSilver 2002, was the first Macintosh Server G4 to get a processor speed up to a Gigahertz. Apart from that, there were few changes from earlier models. Like all in the Macintosh Server G4 line, the QuickSilver 2002 was shipped with bundled server software.
Photos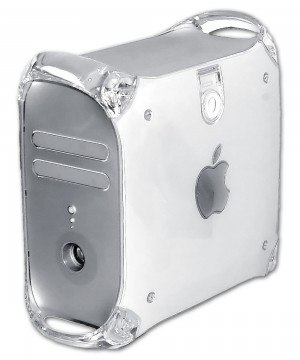 Specifications
Processor: PowerPC 7450 v2.1 or 7455 v2.1 (G4)
Processor Speed: 933 MHz or dual 1.0 GHz
Coprocessor: Built-in FPU
Cache: 64 KB L1, 256 KB L2, 2 MB DDR L3
System Bus: 133 MHz
Hard Drive: 80 GB 7200-rpm (ATA), 36, or 72 GB 10,000-rpm (SCSI)
Media: 24x10x32x CD-RW, optional Zip 250
Weight and Dimensions (US): 30 lbs., 17" H x 8.9" W x 18.4" D
Weight and Dimensions (Metric): 13.6 kg, 43.2 cm H x 22.6 cm W x 46.7 cm D
Original Mac OS: Mac OS X Server 10.1 (Unlimited)
Maximum Mac OS: Latest release of Mac OS X
Firmware: Open Firmware
Logicboard RAM: None
Maximum RAM: 1.5 GB
Type of RAM Slots: 3 - PC133 3.3V 168-pin SDRAM
Minimum RAM Speed: 10 ns
Interleaving Support: No
Graphics Card: ATI Radeon 7500
Graphics Memory: 32 MB
Built-in Display: None
Display Connection: 1 - VGA, 1 - ADC (dual display capable)
Expansion Slots: 4 - 64-bit 33 MHz PCI, 1 - 4x AGP
Expansion Bays: 4 - internal 3.5" ATA drive bays, 1 - optical drive bay, 1 - Zip 250 bay
Hard Drive Bus: Ultra ATA/66 (ATA-5) or Ultra160 SCSI
Large Drive Support: Yes (128 GB or larger per drive)
Backup Battery: 3.6 V 850 mAh Lithium (922-4028)
Max Watts: 338 W
Line Voltage: 115V AC (90V to 132V AC) or 230V AC (180V to 264V AC)
Ethernet: 10/100/1000BASE-T (RJ-45)
Modem: None
ADB: None
Serial: None
SCSI: Optional Ultra160 SCSI PCI card
USB: 2 - 12 MBit/s
FireWire: 2 - 400 MBit/s (15W total power)
Audio In: None
Audio Out: 1 - 3.5-mm analog output jack, 1 - 2.5-mm Apple Pro Speaker minijack, Built-in speaker (16-bit 44.1 kHz sample rate)
Timeline
Introduced in January 2002, the Macintosh Server G4 (QuickSilver 2002) was discontinued in August 2002.
Videos