Macintosh SE/30
Introduced: January 1989
Terminated: October 1990
Description
The Macintosh SE/30 was the fastest of the initial black and white compact Macintosh line. It was also the most expandable. As shipped it could have up to 8MB of RAM, however, it could be expanded to 128MB. The Macintosh SE/30 had an internal hard drive of 40-80MB and a single, high-density disk drive. The Motorola 68030 processor was capable of speeds of up to 16MB
History
The Macintosh SE/30 basically took many of the key features of the Macintosh IIx and put them in the all-in-one case of the Macintosh SE. It sold for $6500.
The Macintosh SE/30 was so named because of the new processor. Other models had added an "x" the name, however, with the Macintosh SE, Apple did not want to give it the model name "SEx." Because of this, it was named the SE/30.
Photos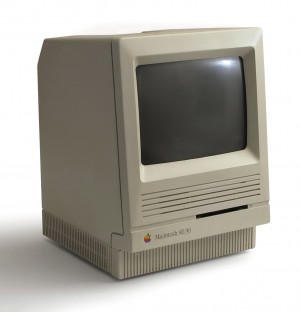 Specifications
Processor: Motorola 68030
Processor Speed: 16 MHz
Cache: 0.5 k L1
System Bus: 16 MHz
Hard Drive: 40 - 80 MB
Media: 1.44 MB floppy
Weight and Dimensions (US): 19.5 lbs., 13.6" H x 9.69" W x 10.9" D
Weight and Dimensions (Metric): 8.8 kg, 34.5 cm H x 24.6 cm W x 27.7 cm D
Original Mac OS: System 6.0.3
Maximum Mac OS: System 7.5.5
Firmware: Macintosh ROM
Model Number: M5119
Logicboard RAM: None
Maximum RAM: 128 MB (Actual) 32 MB (Apple)
Type of RAM Slots: 8 - 30 pin SIMM (Groups of 4)
Minimum RAM Speed: 120 ns
Interleaving Support: No
Graphics Card: None
Graphics Memory: None
Built-in Display: 9" 1 bit 512 x 342
Display Connection:—
Expansion Slots: 1 - SE/30 PDS
Hard Drive Bus: SCSI
Backup Battery: 3.6 V Lithium
Max Watts: 100 W
Ethernet: None
Modem: None
ADB: 2
Serial: 2
SCSI: 1 - DB-25
USB: None
FireWire: None
Audio In: None
Audio Out: 8 bit stereo
Timeline
Introduced in the beginning of 1989, the Macintosh SE/30 was in production until October 1990.
Videos