Macintosh Quadra 950
Introduced: May 1992
Terminated: October 1995
Description
The Macintosh Quadra 950 was a speeded up version of the Macintosh Quadra 900. The Motorola 68040 processor ran at speeds of up to 33MHz. The hard drive was available with between 230MB and 1GB of space. A 2x CD-ROM drive and 1.44 MB floppy drive. The 4MB of RAM was expandable to 256MB. It had five NuBus slots and one PDS slot and a graphics memory of between 1 and 2MB.
History
An upgraded processor made the Macintosh Quadra 950 the new speed leader for Macintosh. It replaced the Macintosh Quadra 900 only six months after it had been released at a price of $6,100. The Macintosh Quadra 950 was extremely heavy for a Macintosh, weighing in at over 35 pounds.
Photos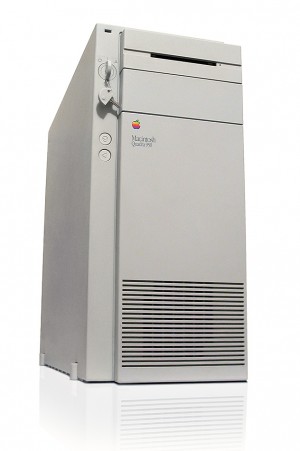 Specifications
Processor: Motorola 68040
Processor Speed: 33 MHz
Cache: 8 KB L1
System Bus: 33 MHz
Hard Drive: 230 MB - 1.0 GB
Media: 2x CD-ROM, 1.44 MB floppy
Weight and Dimensions (US): 36.8 lbs., 18.6" H x 8.9" W x 20.6" D
Weight and Dimensions (Metric): 16.7 kg, 47.2 cm H x 22.6 cm W x 52.3 cm D
Original Mac OS: System 7.1
Maximum Mac OS: Mac OS 8.1
Firmware: Macintosh ROM
Model Number:—
Logicboard RAM: None
Maximum RAM: 256 MB
Type of RAM Slots: 16 - 30 pin SIMM
Minimum RAM Speed: 80 ns
Interleaving Support: No
Graphics Card: None
Graphics Memory: 1 - 2 MB (four sockets)
Built-in Display: None
Display Connection: DB-15
Expansion Slots: 5 NuBus, 1 PDS
Hard Drive Bus: SCSI
Backup Battery: 3.6 V Lithium
Max Watts: 303 W
Ethernet: AAUI-15
Modem: None
ADB: 2
Serial: 2
SCSI: 1 - DB-25
USB: None
FireWire: None
Audio In: mono 8 bit
Audio Out: stereo 8 bit
Timeline
Introduced in 1992, the Quadra 950 was a popular high-end Macintosh. New Quadras were introduced in 1993 that had better performance and lower cost, however the more compact minitower case used in these models made them difficult to work with and the Quadra 950 remained in production through October of 1995.
Videos