Macintosh Quadra 900
Introduced: October 1991
Terminated: May 1992
Description
The biggest difference between the Macintosh Quadra 700 and the 900 was the expandability. The Macintosh Quadra 900 had five Nubus slots and space available for up to three half-height internal bays.
Like the Quadra 700, it had a Motorola 68040 processor running at speeds of 25MHz. The hard drive had between 80 and 160 MB of room. The Ram could be expanded to a massive 256MB.
History
The high end of the new high end Macintoshes, the Macintosh Quadra 900 was able to be expanded for those users who needed the maximum speeds and memory capabilities available. At $7,200 this was not a computer being marketed for home use.
A unique feature on the Quadra 900 was a key that could be set to "off," "secure," or "on."
Photos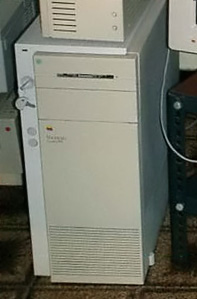 Specifications
Product Specifications
Processor: Motorola 68040
Processor Speed: 25 MHz
Cache: 8 KB L1
System Bus: 25 MHz
Hard Drive: 80 - 160 MB
Media: 2x CD-ROM, 1.44 MB floppy
Weight and Dimensions (US): 25.3 lbs., 18.6" H x 8.9" W x 20.6" D
Weight and Dimensions (Metric): 11.5 kg, 47.2 cm H x 22.6 cm W x 52.3 cm D
Original Mac OS: System 7.0.1
Maximum Mac OS: Mac OS 8.1
Firmware: Macintosh ROM
Model Number:—
Logicboard RAM: None
Maximum RAM: 256 MB
Type of RAM Slots: 16 - 30 pin SIMM
Minimum RAM Speed: 80 ns
Interleaving Support: No
Graphics Card: None
Graphics Memory: 1 - 2 MB (four sockets)
Built-in Display: None
Display Connection: DB-15
Expansion Slots: 5 NuBus, 1 PDS
Hard Drive Bus: SCSI
Backup Battery: 3.6 V Lithium
Max Watts: 303 W
Ethernet: AAUI-15
Modem: None
ADB: 1
Serial: 2
SCSI: 1 - DB-25
USB: None
FireWire: None
Audio In: mono 8 bit
Audio Out: stereo 16 bit
Timeline
Introduced at the same time as the Quadra 700, the Quadra 900 was discontinued in 1992 when the Quadra 950 was released.
Videos