Macintosh Quadra 800
Introduced: February 1993
Terminated: March 1994
Description
The Macintosh Quadra 800 went out in a re-designed mini-tower. It had a 33MHz 68040 processor. The Quadra 800 had especially fast memory chips and faster ROMs than had been used in previous Macs. The hard drive was available with between 230MB and 1GB. There were three NuBus slots and one PDS slot.
History
The new top-of-the-line Macintosh, the Quadra 800, took over for the Quadra 950 and cost half its original price. It was not as expandable as the Quadra 950, however the increase in speed and the lighter, more compact design outweighed that drawback.
Photos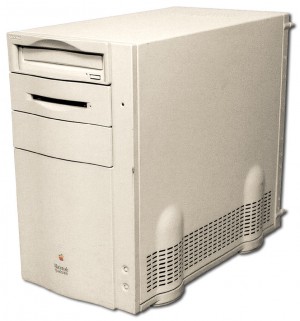 Specifications
Processor: Motorola 68040
Processor Speed: 33 MHz
Cache: 8 KB L1
System Bus: 33 MHz
Hard Drive: 230 MB - 1.0 GB
Media: 2x CD-ROM, 1.44 MB floppy
Weight and Dimensions (US): 24 lbs., 14" H x 7.7" W x 15.75" D
Weight and Dimensions (Metric): 10.9 kg, 35.6 cm H x 19.6 cm W x 40 cm D
Original Mac OS: System 7.1 (System Enabler 040 v1.0)
Maximum Mac OS: Mac OS 8.1
Firmware: Macintosh ROM
Model Number:—
Logicboard RAM: 8 MB
Maximum RAM: 136 MB
Type of RAM Slots: 4 - 72 pin SIMMs
Minimum RAM Speed: 60 ns
Interleaving Support: Yes
Graphics Card: None
Graphics Memory: 512 k - 2 MB (two sockets)
Built-in Display: None
Display Connection: DB-15
Expansion Slots: 3 Nubus, 1 PDS
Hard Drive Bus: SCSI
Backup Battery: 3.6 V Lithium
Max Watts: 200 W
Ethernet: AAUI-15
Modem: None
ADB: 2
Serial: 2
SCSI: 1 - DB-25
USB: None
FireWire: None
Audio In: mono 8 bit
Audio Out: stereo 16 bit
Timeline
The Quadra 800 was produced from February of 1993 through March of 1994.
Videos