Macintosh Quadra 700
Introduced: October 1991
Terminated: March 1993
Description
With its new Quadra line, Macintosh began using the Motorola 68040 processor capable of running at speeds of 25MHz. The 4MB of Ram could be upgraded to 68MB, something that made the Quadra 700 very useful in specific types of scientific or design work.
The hard drive came in sizes ranging from 80-400MB. The 1.44 floppy disk drive and the CPU were housed in Macintosh's first "tower" style set up, though it could still be laid on its side for a desktop set up.
Features like built in graphics memory, NuBus slots, onboard video and Ethernet set the Quadra up as a top-of-the-line Mac.
History
The Quadra 700 was the computer that supplanted the long-lived IIfx as the most powerful Macintosh. With a price of $6,000 it was not geared towards general consumers, but rather to specialty markets that needed the unique features that the Quadra 700 offered.
Photos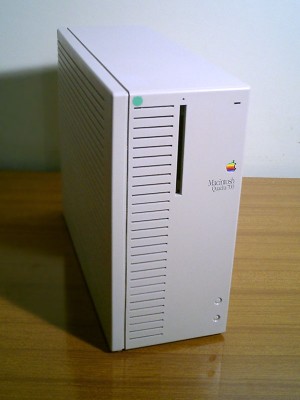 Specifications
Processor: Motorola 68040
Processor Speed: 25 MHz
Cache: 8 KB L1
System Bus: 25 MHz
Hard Drive: 80 - 400 MB
Media: 1.44 MB floppy
Weight and Dimensions (US): 13.6 lbs., 5.5" H x 11.9" W x 14.4" D
Weight and Dimensions (Metric): 6.2 kg, 14 cm H x 30.2 cm W x 36.6 cm D
Original Mac OS: System 7.0.1
Maximum Mac OS: Mac OS 8.1
Firmware: Macintosh ROM
Model Number:—
Logicboard RAM: 4 MB
Maximum RAM: 68 MB
Type of RAM Slots: 4 - 30 pin SIMM
Minimum RAM Speed: 80 ns
Interleaving Support: No
Graphics Card: None
Graphics Memory: 512 k - 2 MB (six sockets)
Built-in Display: None
Display Connection: DB-15
Expansion Slots: 2 Nubus, 1 PDS
Hard Drive Bus: SCSI
Backup Battery: 3.6 V Lithium
Max Watts: 50 W
Ethernet: AAUI-15
Modem: None
ADB: 2
Serial: 2
SCSI: 1 - DB-25
USB: None
FireWire: None
Audio In: mono 8 bit
Audio Out: stereo 8 bit
Timeline
The Quadra 700 was introduced in October of 1991 and was replaced by newer models in March of 1993.
Videos