Macintosh PowerBook G3
Introduced: November 1997
Terminated: May 1998
Description
Running the new G3 PowerPC 750 processor at 250Mhz, the PowerBook G3 had a 5Gb hard drive. It had a 1.4Mb floppy drive and a 20x CD-ROM. It had a trackpad and a full size keyboard and weighed 7.5lbs. There was 32Mb of logicboard RAM that was expandable to 160Mb. It had a 12.1" active matrix LCD screen with an 800 x 600 resolution.
History
The first PowerBook to use the G3 processor, it was similar to the PowerBook 3400 but more than two times faster. It also had improved graphics abilities that allowed the screen to refresh much faster than any previous models.
The PowerBook G3 is the only G3 model that was not compatible with Mac OS X, which would be released in the future.
Photos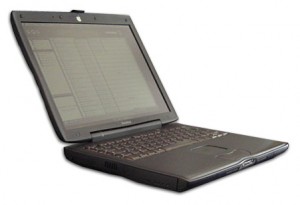 Specifications
Processor: PowerPC 750 (G3)
Processor Speed: 250 MHz
Cache: 64 KB L1, 512 KB backside (1:2.5) L2
System Bus: 50 MHz
Hard Drive: 5.0 GB
Media: 1.44 MB floppy, Tray-loading 20x CD-ROM
Weight and Dimensions (US): 7.5 lbs., 2.4" H x 11.5" W x 9.5" D
Weight and Dimensions (Metric): 3.4 kg, 6.1 cm H x 29.2 cm W x 24.1 cm D
Original Mac OS: Mac OS 8.0
Later Mac OS:—
Maximum Mac OS: Mac OS 9.1
Hardware Test: Not Supported
Firmware: Open Firmware with Macintosh ROM
Firmware Update: None
Logicboard RAM: 32 MB
Maximum RAM: 160 MB
Type of RAM Slots: 1 - PBG3
Minimum RAM Speed: 60 ns
Interleaving Support: No
Graphics Card: None
ATI Card Model:—
Graphics Connection:—
Graphics Memory: 2 MB
Built-in Display: 12.1" Active Matrix LCD
Resolutions: 800 x 600 (native)
Display Modes:—
Display Connection: 1 - HDI-15
Expansion Slots: 2 - Type II or 1 - Type III PC Card
Expansion Bays: 5.25-inch bay
Hard Drive Bus: ATA
Motion Sensor: None
Backup Battery: 922-2692
Power Adapter: 45 W AC (M4895)
System Battery: 47 Wh Lithium Ion (M4895)
Battery Life:—
Max Watts: 45 W
Line Voltage: 100-240V AC
AirPort: None
Bluetooth: None
Ethernet: 10BASE-T
Modem: 33.6k
ADB: 1 - External, 1 - Internal for Trackpad
Serial: 1
SCSI: HDI-30
USB: None
FireWire: None
Security Slot: 1 - Kensington cable lock
Audio In: 1 - 3.5-mm analog input jack, 1 - Built-in microphone
Audio Out: 1 - 3.5-mm analog output jack, 4 - Built in speakers
Timeline
Introduced in November 1997, the original PowerBook G3 model was not on the market for long. It was discontinued to make way for a far superior line in May 1998. It is noted as being the fasted depreciating PowerBook Apple ever made.
Videos