Macintosh PowerBook Duo 280/280c
Introduced: May 1994
Terminated: January 1996
Description
Powered by the Motorola 68LC040 running at 33Mhz, the PowerBook Duo 280 and 280c came with hard drives of between 240 and 320MB. The RAM of 4MB was expandable to 40. The PowerBook Duo 280 had a 9" grayscale LCD and the PowerBook Duo 280c had an 8.4" color LCD.
History
The PowerBook Duo 280 and 280c increased the processor power considerably as new additions to the Duo line.
Photos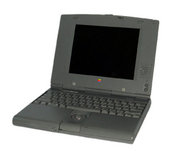 Specifications
Processor: Motorola 68LC040
Processor Speed: 33 MHz
Coprocessor: None
Cache: 8 KB L1
System Bus: 33 MHz
Hard Drive: 240 (280) 320 (280c) MB
Media: None
Weight and Dimensions (US): 4.2 (280) 4.8 (280c) lbs., 1.4" (280) 1.5" (280c) H x 10.9" W x 8.5" D
Weight and Dimensions (Metric): 1.9 (280) 2.2 (280c) kg, 3.6 cm (280) 3.8 cm (280c) H x 27.7 cm W x 21.6 cm D
Original Mac OS: System 7.1 (PowerBook Duo Enabler v2.0)
Maximum Mac OS: Mac OS 8.1
Firmware: Macintosh ROM
Logicboard RAM: 4 MB
Maximum RAM: 40 MB
Type of RAM Slots: 1 - Duo
Minimum RAM Speed: 70 ns
Interleaving Support: No
Graphics Card: None
Graphics Memory: None
Built-in Display: 9" 4-bit (280) or 8.4" 16-bit (280c) thin-film transistor (TFT) LCD
Resolutions: 640x400 (280) or 640 x 480 (8-bit) 640 x 400 (16-bit) (280c)
Display Connection: None
Expansion Slots: Modem, Dock (152-pin PDS)
Expansion Bays:—
Hard Drive Bus: SCSI
Backup Battery:—
Power Adapter:—
System Battery: PowerBook Duo Type III (NiMH)
Max Watts: 25 W
Ethernet: None
Infrared: None
Modem: Internal modem/fax card
ADB: None
Serial: 1
SCSI: HDI-30
USB: None
FireWire: None
Audio In: 1 - 3.5-mm analog input jack, 1 - Built-in microphone
Audio Out: 1 - 3.5-mm analog output jack, 1 - Built-in speaker
Timeline
Introduced in May of 1994, the 280 was discontinued in May of that year while the 280c remained in production until January 1996.
Videos