Macintosh PowerBook 550c
Introduced: May 1995
Terminated:
Description
The PowerBook 550c had a Motorola 68040 that ran at 33Mhz. It had a built-in FPU and a 1.44Mb floppy drive. The maximum RAM was 36Mb and it had expansion slots for a modem card and type II or III PC card bay. The 10.4" LCD had an Active Matrix display.
History
Packaged in a sleek black case, the PowerBook 550c was only released in Japan. The integrated FPU was a key feature.
Photos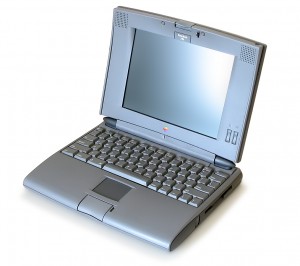 Specifications
Product Specifications
Processor: Motorola 68040
Processor Speed: 33 MHz
Coprocessor: Built-in FPU
Cache: 8 KB L1
System Bus: 33 MHz
Hard Drive: 750 MB
Media: 1.44 MB floppy
Weight and Dimensions (US): 6.8 lbs., 2.3" H x 11.5" W x 9.7" D
Weight and Dimensions (Metric): 3.1 kg, 5.8 cm H x 29.2 cm W x 24.6 cm D
Original Mac OS: System J-7.5 (PowerBook 550c Enabler)
Maximum Mac OS: Mac OS 8.1
Firmware: Macintosh ROM
Logicboard RAM: 4 MB
Maximum RAM: 36 MB
Type of RAM Slots: 1 - PB 5xx
Minimum RAM Speed: 70 ns
Interleaving Support: No
Graphics Card: None
Graphics Memory: 512k
Built-in Display: 10.4" LCD, 8 bit 640x480/16-bit 640x400 Active Matrix
Resolutions: 8-bit 640x480 or 16-bit 640x400
Display Connection: Mini-15
Expansion Slots: Modem, Optional Type II/III PC Card Bay
Expansion Bays:—
Hard Drive Bus: SCSI
Backup Battery:—
Power Adapter:—
System Battery: PB 500 Intelligent Battery (M1906) (NiMH)
Max Watts: 40 W
Ethernet: AAUI-15
Infrared: None
Modem: None
ADB: 1
Serial: 1
SCSI: HDI-30
USB: None
FireWire: None
Audio In: 1 - 3.5-mm analog input jack, 1 - Built-in microphone
Audio Out: 1 - 3.5-mm analog output jack, 1 - Built-in speakers
Timeline
Introduced in May of 1995.
Videos