Macintosh PowerBook 5300 Series
Introduced: August 1995
Terminated: October 1996
Description
The first PowerBooks to use the PowerPC 603e chip, the Macintosh PowerBook 5300 Series ran at 100Mhz or 117Mhz in the 5300ce configuration. It had a built-in FPU and a hard drive of between 500Mb and 1.1Gb. It had a 1.44Mb floppy drive. The RAM was expandable to 64Mb. Some configurations came with a 9.5" grayscale passive matrix screen, some had a color passive matrix screen and some came with an active matrix color screen.
History
The PowerBook 5300 series had the ability to remove or add components without rebooting and a number of configurations. Unfortunately, a number of 5300s were found to be dead on arrival and because of this, they were responsible for earning Apple a reputation for defective products.
The multiple configurations ranged in price from $2,300 for the lowest end and $6,800 for the highest.
Photos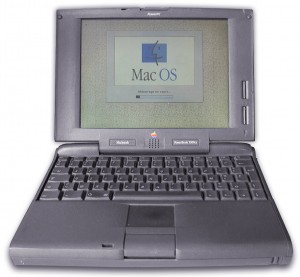 Specifications
Processor: PowerPC 603e
Processor Speed: 100 MHz (5300/5300cs/5300c) or 117 MHz (5300ce)
Coprocessor: Built-in FPU
Cache: 16 KB data, 16 KB instruction L1
System Bus: 33.3 MHz
Hard Drive: 500 (5300/5300cs/5300c), 750 MB (5300cs/5300c), or 1.1 GB (5300ce)
Media: 1.44 MB floppy
Weight and Dimensions (US): 6.2 lbs., 2.2" H x 11.5" W x 8.5" D
Weight and Dimensions (Metric): 2.8 kg, 5.6 cm H x 29.2 cm W x 21.6 cm D
Original Mac OS: System 7.5.2 (PowerBook 5300 Enabler)
Maximum Mac OS: Mac OS 9.1
Firmware: Macintosh ROM
Logicboard RAM: 8 MB (5300) 8 or 16 MB (5300cs/5300c) 32 MB (5300ce)
Maximum RAM: 64 MB
Type of RAM Slots: 1 - PB53xx (120-pin connector)
Minimum RAM Speed: 60 ns
Interleaving Support: No
Graphics Card: None
Graphics Memory: 512 KB or 1 MB
Built-in Display: 9.5" DualScan gray scale passive matrix (5300), 10.4" DualScan color passive matrix (5300cs), 10.4" Active matrix color (5300c/5300ce) LCD
Resolutions: 640 x 480 (5300/5300cs/5300c) 800 x 600 (5300ce)
Display Connection: Mini-15
Expansion Slots: 2 - Type II or 1 - Type III PC Card
Expansion Bays: PB 5300 Bay (90-pin)
Hard Drive Bus: ATA
Backup Battery: 3v Lithium CR2330
Power Adapter:—
System Battery: NiMH
Max Watts: 45 W
Ethernet: None
Infrared: 1 - 1 Mbps
Modem: None
ADB: 1
Serial: 1
SCSI: HDI-30
USB: None
FireWire: None
Audio In: 1 - 3.5-mm analog input jack, 1 - Built-in microphone
Audio Out: 1 - 3.5-mm analog output jack, 1 - Built in speaker
Timeline
Introduced in August of 1995, the PowerBook 5300 series was terminated in October 1996
Videos