Macintosh PowerBook 520/520c
Introduced: May 1994
Terminated: September 1995
Description
The PowerBook 520 and PowerBook 520c were the first PowerBooks in the 500 series. Running the Motorola 68LC040 processor at 25Mhz it came with hard drives of between 160 and 240MB. Along with the 1.44MB floppy drive the 520 and 520c had an expansion slot for a modem, a PC card bay, a built-in microphone and stereo speakers. The 520 had a grayscale screen and the 520c had a dual-scan 256-color screen.
History
The new 500 series offered a number of advancements for the PowerBook. A faster processor and increased connectivity options combined with the possibility of a dual scan 256-color screen for an attractive package.
Photos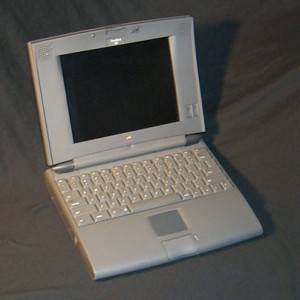 Specifications
Processor: Motorola 68LC040
Processor Speed: 25 MHz
Coprocessor: None
Cache: 8 KB L1
System Bus: 25 MHz
Hard Drive: 160 - 240 MB
Media: 1.44 MB floppy
Weight and Dimensions (US): 6.3 lbs. (520) 6.4 lbs. (520c), 2.3" H x 11.5" W x 9.7" D
Weight and Dimensions (Metric): 2.9 kg, 5.8 cm H x 29.2 cm W x 24.6 cm D
Original Mac OS: System 7.1.1 (PowerBook 500 Series Enabler)
Maximum Mac OS: Mac OS 8.1
Firmware: Macintosh ROM
Logicboard RAM: 4 MB
Maximum RAM: 36 MB
Type of RAM Slots: 1 - PB 5xx
Minimum RAM Speed: 70 ns
Interleaving Support: No
Graphics Card: None
Graphics Memory: 512k
Built-in Display: 9.5" 4 bit (520) 8 bit (520c) passive matrix LCD
Resolutions: 640x480
Display Connection: Mini-15
Expansion Slots: Modem, Optional Type II/III PC Card Bay
Expansion Bays: PowerBook Expansion Bay (90-pin) PDS
Hard Drive Bus: SCSI
Backup Battery:—
Power Adapter:—
System Battery: PB 500 Intelligent Battery (M1906) (NiMH)
Max Watts: 40 W
Ethernet: AAUI-15
Infrared: None
Modem: None
ADB: 1
Serial: 1
SCSI: HDI-30
USB: None
FireWire: None
Audio In: 1 - 3.5-mm analog input jack, 1 - Built-in microphone
Audio Out: 1 - 3.5-mm analog output jack, 1 - Built-in speakers
Timeline
Introduced in May of 1994, the PowerBook 520 was discontinued in June of 1995 and the PowerBook 520c was discontinued in September 1995.
Videos