Macintosh PowerBook 2400c
Introduced: May 1997
Terminated: May 1998
Description
Running a PowerPC 603ev processor at 180Mhz, the PowerBook 2400c had a 1.3 or 2Gb hard drive. The external 1.4Mb floppy drive was optional. There was 16Mb of logicboard RAM and the RAM was expandable to 80Mb through an SO-DIMM slot. The 10.4" active matrix display with a resolution of 800 x 600. It came with either two Type II or one Type III PC Card. It had an analog input/output and a built-in speaker.
History
The PowerBook 2400c was the first notebook Apple released since the Duo 2300. It was designed by Apple, however it was manufactured by IBM. It lacked an internal floppy drive or a CD-ROM drive, but it was much lighter than any other existing notebooks.
Photos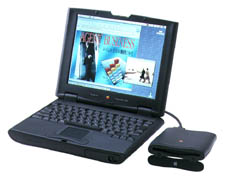 Specifications
Processor: PowerPC 603ev
Processor Speed: 180, 240 MHz
Coprocessor: Built-in FPU
Cache: 32 KB L1, 256 KB L2
System Bus: 40 MHz
Hard Drive: 1.3 or 2.0 GB
Media: Optional External 1.44 MB floppy (proprietary port)
Weight and Dimensions (US): 4.4 lbs., 1.9" H x 10.5" W x 10.5" D
Weight and Dimensions (Metric): 2 kg, 4.8 cm H x 26.7 cm W x 26.7 cm D
Original Mac OS: Mac OS 7.6.1 (USA 180 MHz) Mac OS 7.6 (Japan 180 MHz) 8.1J (240 MHz)
Maximum Mac OS: Mac OS 9.1
Firmware: Macintosh ROM
Logicboard RAM: 16 MB
Maximum RAM: 80 MB
Type of RAM Slots: 1 - 144-pin 8-byte DRAM SO-DIMM
Minimum RAM Speed: 60 ns
Interleaving Support: No
Graphics Card: None
Graphics Memory: 1 MB
Built-in Display: 10.4" active matrix (TFT)
Resolutions: 800 x 600
Display Connection: Mini-15
Expansion Slots: 2 - Type II or 1 - Type III PC Card
Expansion Bays:—
Hard Drive Bus: ATA
Backup Battery: 3.6 V Lithium
Power Adapter:—
System Battery: 29 Wh Lithium Ion
Max Watts: 45 W
Ethernet: None
Infrared: 1 - 4Mbps
Modem: None
ADB: 1
Serial: 1
SCSI: HDI-30
USB: None
FireWire: None
Audio In: 1 - 3.5-mm analog input jack
Audio Out: 1 - 3.5-mm analog output jack, 1 - Built in speaker
Timeline
The PowerBook 2400c was introduced in May 1997 and terminated in May 1998 to give way to the PowerBook G3.
Videos