Macintosh PowerBook 150
Introduced: July 1994
Terminated: October 1995
Description
The Motorola 68030 processor running at 33Mhz powered the Macintosh PowerBook 150. It came with a hard drive of either 120 or 250MB and had a 1.44MB floppy drive. The 4MB of RAM was expandable to 40MB. It had a 9.5" grayscale passive matrix LCD with a resolution of 640 x 480. There was an expansion slot for a 2400-baud modem card. The 150 had serial and SCSI.
History
At $1,300, the PowerBook 150 was the first PowerBook that was priced for the general user. Lacking an ADB port was a limitation as was the lack of Ethernet or monitor jacks. But for the price, it was lightweight and fast.
Photos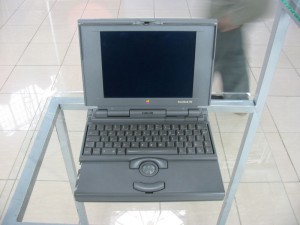 Specifications
Processor: Motorola 68030
Processor Speed: 33 MHz
Coprocessor: None
Cache: 0.5k L1
System Bus: 33 MHz
Hard Drive: 120 or 250 MB
Media: 1.44 MB floppy
Weight and Dimensions (US): 5.8 lbs., 2.25" H x 11.25" W x 9.3" D
Weight and Dimensions (Metric): 2.6 kg, 5.7 cm H x 28.6 cm W x 23.6 cm D
Original Mac OS: System 7.1.1 (PowerBook 150 Enabler)
Maximum Mac OS: Mac OS 7.6.1
Firmware: Macintosh ROM
Logicboard RAM: 4 MB
Maximum RAM: 40 MB
Type of RAM Slots: 1 - Macintosh Duo (Adapter required for Duo modules)
Minimum RAM Speed: 70 ns
Interleaving Support: No
Graphics Card: None
Graphics Memory: None
Built-in Display: 9.5" Film SuperTwist Nematic (FSTN) 2-bit-per-pixel (4-level) grayscale LCD
Resolutions: 640 x 480
Display Connection: None
Expansion Slots: Internal 20-pin connector for optional 2400-baud modem card
Expansion Bays:—
Hard Drive Bus: IDE
Backup Battery:—
Power Adapter:—
System Battery: NiCad
Max Watts: 17 W
Ethernet: None
Infrared: None
Modem: Optional
ADB: None
Serial: 1
SCSI: HDI-30
USB: None
FireWire: None
Audio In: None
Audio Out: 1 - Built-in speaker
Timeline
Introduced in July of 1994, the PowerBook 150 was terminated in October 1995.
Videos