Macintosh PowerBook 1400cs/1400c
Introduced: October 1996
Terminated: Early 1998
Description
The PowerBook 1400cs/1400c ran a PowerPC 603e processor available in three different speeds: 117, 133 and 166Mhz. It shipped with a 1.4Mb floppy drive and a 6x CD-ROM. The 1400cs had a 11.3" DualScan color display while the 1400c had a 11.3" active matrix color screen. Both displays had a resolution of 800 x 600. There was 12 or 16Mb of logicboard RAM and the RAM could be expanded to 64Mb via the single PB 1400 slot. The CD-ROM drive was sleep-swappable and allowed users a variety of storage options. Expansion slots allowed the use of video-out, Ethernet and Type II or III PC Cards.
History
The first PowerBook to be released since the disappointing PowerBook 5300, the PowerBook 1400cs/1400c was the first notebook to have a CD-ROM drive built in. The fact that that drive was sleep swappable made this a very flexible machine in terms of data storage. The lid on the 1400 was a unique feature as it included a cover for storing paper. The 1400 was more expandable and changeable than previous PowerBooks, giving the portable some of the options that had been available in desktops for years.
Photos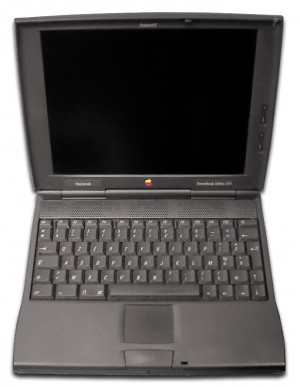 Specifications
Processor: PowerPC 603e (117 and 133 MHz) 603ev (166 MHz)
Processor Speed: 117, 133, or 166 MHz
Coprocessor: Built-in FPU
Cache: 32 KB L1, 128 KB L2 (on later models)
System Bus: 33.3 MHz
Hard Drive: 750 MB, 1.0, 1.3 , or 2.0 GB
Media: 1.44 MB floppy, 6x, 8x, or 12x CD-ROM
Weight and Dimensions (US): 6.7 lbs., 2" H x 11.5" W x 9" D
Weight and Dimensions (Metric): 3 kg, 5.1 cm H x 29.2 cm W x 22.9 cm D
Original Mac OS: System 7.5.2 (PowerBook 1400 Enabler)
Maximum Mac OS: Mac OS 9.1
Firmware: Macintosh ROM
Logicboard RAM: 12 or 16 MB
Maximum RAM: 64 MB
Type of RAM Slots: 1 - PB 1400
Minimum RAM Speed: 70 ns
Interleaving Support: No
Graphics Card: None
Graphics Memory: 1 MB
Built-in Display: 11.3" DualScan color (FSTN) (1400cs) or active-matrix color (TFT) (1400c)
Resolutions: 800 x 600
Display Connection: Optional Mini-15
Expansion Slots: 2 - Type II or 1 - Type III PC Card
Expansion Bays: 5.25-inch bay
Hard Drive Bus: ATA-2
Backup Battery:—
Power Adapter:—
System Battery: NiMH
Max Watts: 40 W
Ethernet: None
Infrared: 1 (up to 230 KB per second)
Modem: None
ADB: 1
Serial: 1
SCSI: HDI-30
USB: None
FireWire: None
Audio In: 1 - 3.5-mm analog input jack, 1 - Built-in microphone
Audio Out: 1 - 3.5-mm analog output jack, 1 - Built-in speaker
Timeline
Introduced in October 1996, the PowerBook 1400cs/1400c was discontinued in early 1998.
Videos