Macintosh PowerBook 140
Introduced: October 1991
Terminated: August 1992
Description
The Macintosh PowerBook 140 ran a Motorola 68030 at speeds of 16MHz. It had either a 40 or 80MB hard drive as well as a 1.44MB internal floppy drive. 2MB of RAM were expandable to 8MB.
The PowerBook 140 had a bigger passive matrix LCD screen and a slightly larger trackball than the PowerBook 100. The PowerBook 140 could be used to record sound. It also use a NiCad battery. A modem card could be added in an expansion slot.
History
With a more powerful processor, the PowerBook 140 was the mid-range in the new PowerBook line. It had many features that were lacking in the PowerBook 100 such as an internal floppy drive and sound recording capabilities. At $3000, the PowerBook 140 provided a lot for the money.
Photos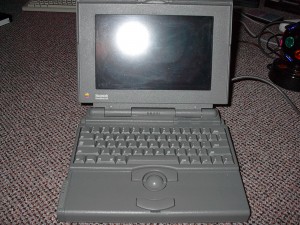 Specifications
Processor: Motorola 68030
Processor Speed: 16 MHz
Coprocessor: None
Cache: 0.5k L1
System Bus: 16 MHz
Hard Drive: 40 or 80 MB
Media: 1.44 MB floppy
Weight and Dimensions (US): 6.8 lbs., 2.25" H x 11.25" W x 9.3" D
Weight and Dimensions (Metric): 3.1 kg, 5.7 cm H x 28.6 cm W x 23.6 cm D
Original Mac OS: System 7.0.1
Maximum Mac OS: Mac OS 7.6.1
Firmware: Macintosh ROM
Logicboard RAM: 2 MB of PSRAM
Maximum RAM: 8 MB
Type of RAM Slots: 1 - PowerBook 1xx (70-pin connector)
Minimum RAM Speed: 100 ns
Interleaving Support: No
Graphics Card: None
Graphics Memory: None
Built-in Display: Film SuperTwist Nematic (FSTN) (Passive Matrix) LCD
Resolutions: 640 x 400
Display Connection: None
Expansion Slots: Internal 20-pin connector for optional 2400-baud modem card
Expansion Bays:—
Hard Drive Bus: 30-pin SCSI
Backup Battery:—
Power Adapter:—
System Battery: 2.5 ampere-hour NiCad
Max Watts: 17 W
Ethernet: None
Infrared: None
Modem: None
ADB: 1
Serial: 2
SCSI: HDI-30
USB: None
FireWire: None
Audio In: 1 - 3.5-mm analog input jack, 1- Built-in microphone
Audio Out: 1 - 3.5-mm analog output jack, 1 - Built-in speaker
Timeline
The PowerBook 140 was introduced in October of 1991 with the rest of the new PowerBook line. It was terminated in August of 1992 when new models came out.
Videos