Macintosh Portable
Introduced: September 1989
Terminated: October 1991
Description
Apple's first foray into portable computers was the Macintosh Portable. It was similar to the Macintosh SE. Using a low energy version of the Motorola 68000, it ran at 16MHz. It had 1MB of RAM that was expandable to 9MB.
The screen was a black and white active matrix display; it flipped down, covering the keyboard, when the computer was not in use. Mouse functions were handled by a trackball to the right side of the keyboard. It had a 3.5" floppy drive, an optional internal hard drive and an internal modem.
The Macintosh Portable weighed 15.8 pounds, meaning that it was not very easy to carry around. The travel battery was good for up to ten hours. The battery charged through power supply, but the computer could not run off of AC power.
History
Though it was widely liked by reviewers, the Macintosh Portable was not a commercial success. At $6,500 it was expensive and not without its problems. The clunky build and poor readability depending on the lighting were just some of drawbacks that limited sales.
Although it was not successful, the Macintosh Portable was a major step in the newly emerging world of portable computers. If nothing else, the design problems helped to show what to avoid in the future.
Photos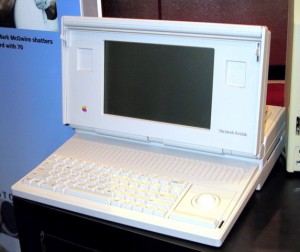 Specifications
Processor: Motorola 68000
Processor Speed: 16 MHz
Coprocessor: None
Cache: 0.5 KB L1
System Bus: 16 MHz
Hard Drive: Optional 40 MB (Original) or 40 MB (Backlit)
Media: 1.44 MB floppy
Weight and Dimensions (US): 15.8 lbs., 4.05" H x 15.25" W x 14.83" D
Weight and Dimensions (Metric): 7.2 kg, 10.3 cm H x 38.7 cm W x 37.7 cm D
Original Mac OS: System 6.0.4 (Original) or 6.0.7 (Backlit)
Maximum Mac OS: System 7.5.5
Firmware: Macintosh ROM
Logicboard RAM: 1 MB
Maximum RAM: 9 MB (Original) or 8 MB (Backlit)
Type of RAM Slots: 1 - Portable
Minimum RAM Speed: 100 ns
Interleaving Support: No
Graphics Card: None
Graphics Memory: None
Built-in Display: 9.8" diagonal active matrix reflective LCD
Resolutions: 640 x 400
Display Connection: DB-15
Expansion Slots: Modem
Expansion Bays:—
Hard Drive Bus: SCSI
Backup Battery: 9v transistor battery
Power Adapter:—
System Battery: Sealed lead-acid battery
Max Watts: 5 W
Ethernet: None
Infrared: None
Modem: Optional 2400 bps
ADB: 1
Serial: 2
SCSI: 1 - DB-25
USB: None
FireWire: None
Audio In: None
Audio Out: 1 - 3.5-mm analog output jack, 1 - Built-in speaker
Timeline
After the Macintosh Portable was released in 1989, problems with readability lead the release of a Macintosh Portable with backlighting in 1991. The backlighting, however, caused the battery life to be cut in half. It was discontinued later that year.
Videos