Macintosh Plus
Introduced: January 1986
Terminated: October 1990
Description
The Macintosh Plus was the first Macintosh to contain an external SCSI port and 3.5" double-sided 800 KB floppy drive. This was a significant upgrade that was still backwards compatible. The SCSI port could be used for a number of external devices such as hard disks, tape drives, CD-ROM drives, printers and monitors. The Macintosh Plus was the first Macintosh to use single in-line memory modules (SIMMS) as their internal memory. The ROM was 128K (double that of the Macintosh 512K) and the 1MB RAM was expandable to 4MB.
Earlier Macintoshes had come with keyboard that did not have directional arrows or a numeric keypad. The Macintosh Plus had both. It had the same nine-inch monochrome screen and shipped with the same one button mouse as earlier Macintosh models.
The Macintosh Plus was sold with the two basic Macintosh programs, MacWrite and MacPaint. At a later point in production it was also shipped with HyperCard and MultiFinder. Third-party software available included MacDraw, Microsoft Word, Excel, and PowerPoint, as well as Aldus's PageMaker.
History
The third model in the Macintosh line, the Macintosh Plus was originally shipped in 1986 in beige, but in 1987, it went out in the now familiar "platinum" color that would be standard on Macs for years. The Macintosh Plus became the image that the public would hold of Apple for many years.
The Macintosh Plus expanded on the features that had limited previous models and did so for a lower ticket price of $2,600. Like the earlier Macintoshes, it did not have a cooling fan. The lack of a fan led to hardware problems for some and the use of third party cooling fans and adding extra vents. The Macintosh Plus would be the last of the line to not have a cooling fan. The Macintosh Plus was sold to educational buyers as the Macintosh Plus ED.
Photos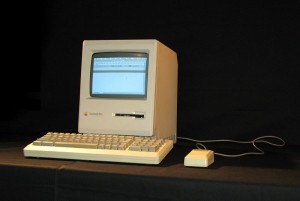 Specifications
Processor: Motorola 68000
Processor Speed: 8 MHz
Cache: None
System Bus: 8 MHz
Hard Drive: None
Media: 800k Floppy
Weight and Dimensions (US): 16.5 lbs., 13.6" H x 9.6" W x 10.9" D
Weight and Dimensions (Metric): 7.5 kg, 34.5 cm H x 24.4 cm W x 27.7 cm D
Original Mac OS: System File 3.0 Finder 5.1
Maximum Mac OS: System 7.5.5
Firmware: Macintosh ROM
Model Number: M0001A
Logicboard RAM: None
Maximum RAM: 4 MB
Type of RAM Slots: 4 - 30 pin SIMMs
Minimum RAM Speed: 150 ns
Interleaving Support: No
Graphics Card: None
Graphics Memory: None
Built-in Display: 9-inch 512 x 342
Display Connection:—
Expansion Slots: None
Hard Drive Bus: None
Backup Battery: 4.5 V Alkaline
Max Watts: 60 W
Ethernet: None
Modem: None
ADB: None
Serial: 2 - RS-422, 1 - DE-9
SCSI: 1 - DB-25
USB: None
FireWire: None
Audio In: None
Audio Out: 1 - Built-in speaker (8-bit 22-kHz)
Timeline
Two new Macs came out in 1987 that eclipsed the Mac Plus, however, it remained popular and in production until 1990. It was the longest ever produced model of Macintosh and was supported by the Mac OS through version 7.5.5, which came out in 1996.
Videos