Macintosh LC
Introduced: October 1990
Terminated: March 1992
Description
Aiming for personal use computer buyers, the Macintosh LC had a 68020 processor running at speeds of up to 16Mhz. A component based set-up, it was the first color Macintosh marketed to the home consumer.
To keep costs low, the Macintosh LC did not have NuBus slots or a floating point coprocessor. The limited RAM and VRAM meant that, as shipped, it could only support a resolution of 12 pixels by 384 pixels at 8-bit color. An upgrade to the VRAM made 512 pixels by 384 pixels at 16-bit color possible.
History
The first affordable color Macintosh sold very well at $2,400. The Processor Direct Slot allowed for the insertion of an emulation card that allowed the computer to run Apple IIe, a selling point for educational clients.
Photos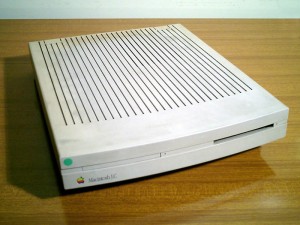 Specifications
Processor: Motorola 68020
Processor Speed: 16 MHz
Cache: 0.25 k L1
System Bus: 16 MHz
Hard Drive: 40 - 80 MB
Media: 1.44 MB floppy
Weight and Dimensions (US): 8.8 lbs., 2.9" H x 12.2" W x 15.3" D
Weight and Dimensions (Metric): 4 kg, 7.4 cm H x 31 cm W x 38.9 cm D
Original Mac OS: System 6.0.7
Maximum Mac OS: System 7.5.5
Firmware: Macintosh ROM
Model Number: M0350
Logicboard RAM: 2 MB
Maximum RAM: 10 MB
Type of RAM Slots: 2 - 30 pin SIMMs
Minimum RAM Speed: 100 ns
Interleaving Support: No
Graphics Card: None
Graphics Memory: 256 k (upgradeable to 512 k via one socket)
Built-in Display:—
Display Connection: DB-15
Expansion Slots: 1 - LC PDS
Hard Drive Bus: SCSI
Backup Battery: 3.6 V Lithium
Max Watts: 50 W
Ethernet: None
Modem: None
ADB: 1
Serial: 2
SCSI: 1 - DB-25
USB: None
FireWire: None
Audio In: mono 8 bit
Audio Out: mono 8 bit (built-in speaker)
Timeline
The Macintosh LC was introduced in 1990 and was eventually replaced by the Macintosh LCII.
Videos