Macintosh LC II
Introduced: March 1992
Terminated: March 1993
Description
The upgrade of the Macintosh LC, the LC II, ran a Motorola 68030 processor at speeds of 16MHz. It was available with hard drives in sizes of between 40 and 80MB. It had a 1.44MB floppy drive. The 2MB of RAM were expandable to 10MB. It had a 256K graphics memory that was upgradeable to 512K.
The Macintosh LC II was also sold as the Performa 400. When packaged with a built-in modem, software and monitor, it was sold as the Performa 405, 410 or 430 depending on the size of the hard drive.
History
Although the Macintosh LC II featured an upgraded processor, it retained the original 16-bit data bus, which limited the speed. Because of this, the upgraded computer did not run any faster. However, it still sold well, and though it was short-lived, it spawned a number of subsequent models.
Photos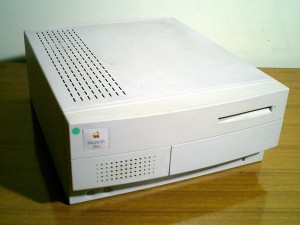 Specifications
Processor: Motorola 68030
Processor Speed: 32 MHz
Cache: 0.5 k L1, 32k L2
System Bus: 16 MHz
Hard Drive: 40 - 400 MB
Media: 1.44 MB floppy, Optional 2x CD-ROM
Weight and Dimensions (US): 35 lbs., 6" H x 13" W x 16.5" D
Weight and Dimensions (Metric): 15.9 kg, 15.2 cm H x 33 cm W x 41.9 cm D
Original Mac OS: System 7.1
Maximum Mac OS: Mac OS 7.6.1
Firmware: Macintosh ROM
Model Number:—
Logicboard RAM: 4 MB
Maximum RAM: 68 MB
Type of RAM Slots: 4 - 30 pin SIMMs (Groups of 4)
Minimum RAM Speed: 80 ns
Interleaving Support: No
Graphics Card: None
Graphics Memory: 512 k - 1 MB (two sockets)
Built-in Display:—
Display Connection: DB-15
Expansion Slots: 3 NuBus, 1 PDS
Hard Drive Bus: SCSI
Backup Battery: 3.6 V Lithium
Max Watts: 230 W
Ethernet: None
Modem: None
ADB: 2
Serial: 2
SCSI: 1 - DB-25
USB: None
FireWire: None
Audio In: mono 8 bit
Audio Out: mono 8 bit
Timeline
The Macintosh LC II was introduced in March of 1992 and discontinued a year later.
Videos