Macintosh LC 520
Introduced: June 1993
Terminated: February 1994
Description
The first of the Macintosh LC 500 line, the LC 520 came in a new all-in-one case that was significantly different from the compact Macintosh line. It had a 14" RGB display built-in along with a built in microphone and speakers.
The Motorola 68030 processor ran at 25 MHz. The hard drive was available with between 80 and 160MB of room. A 2x CD-ROM drive and 1.44MB floppy drive were standard.
History
The new all-in-one Macintosh proved to be a popular home model for Apple. It had a strange look, resembling a traditional monitor fused with the CPU, however many later models followed in its footsteps.
The Macintosh LC 520 was also sold as the Performa 520.
Photos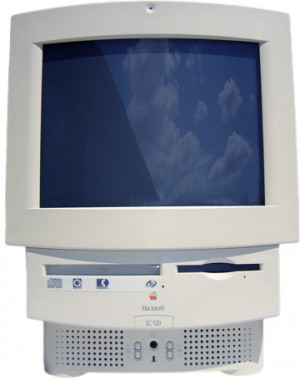 Specifications
Processor: Motorola 68030
Processor Speed: 25 MHz
Cache: 0.5 k L1
System Bus: 25 MHz
Hard Drive: 80 - 160 MB
Media: 2x CD-ROM, 1.44 MB floppy
Weight and Dimensions (US): 40.5 lbs., 17.9" H x 13.5" W x 16.5" D
Weight and Dimensions (Metric): 18.4 kg, 45.5 cm H x 34.3 cm W x 41.9 cm D
Original Mac OS: System 7.1 (System Enabler 403 v1.0)
Maximum Mac OS: Mac OS 7.6.1
Firmware: Macintosh ROM
Model Number:—
Logicboard RAM: 4 MB
Maximum RAM: 36 MB
Type of RAM Slots: 1 - 72 pin SIMM
Minimum RAM Speed: 80 ns
Interleaving Support: No
Graphics Card: None
Graphics Memory: 512k - 768k
Built-in Display: 14" RGB
Display Connection: DB-15
Expansion Slots: 1 - LC PDS
Hard Drive Bus: SCSI
Backup Battery: 3.6 V Lithium
Max Watts: 40 W
Ethernet: None
Modem: None
ADB: 2
Serial: 2
SCSI: 1 - DB-25
USB: None
FireWire: None
Audio In: 1 - 3.5-mm analog input jack, 1 - Built-in microphone
Audio Out: 2 - 3.5-mm analog output jacks, 2 - Built-in speakers
Timeline
The Macintosh LC 520 was introduced in June of 1993 and was replaced with faster, but identical looking models seven months later.
Videos