Macintosh IIx
Introduced: September 1988
Terminated: October 1990
Description
The most important change in the Macintosh IIx was the increased power of the CPU and FPU. The Motorola 68030 processor was capable of speeds of 16 MHz. The 800KB floppy drive was a SuperDrive capable of handling the 1.44MB high-density disks.
Like the original Macintosh II, the Macintosh IIx was sold as a separate component rather than as an all-in-one device. It was expandable and could be used with a number of Apple or third-party products.
History
The Macintosh IIx updated on the original Macintosh II line, offering an upgradable, high-end option to Macintosh users. At $7800, it did not come cheap. However, like the earlier model, the user selected their own monitor, meaning that the entire system did not need to be replaced.
Photos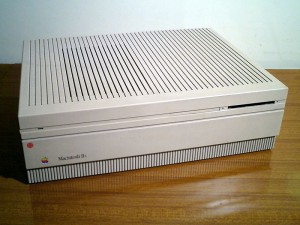 Specifications
Processor: Motorola 68030
Processor Speed: 16 MHz
Cache: 0.25 k L1
System Bus: 16 MHz
Hard Drive: 40 - 80 MB
Media: 1 or 2 1.44 MB floppy
Weight and Dimensions (US): 24 lbs., 5.5" H x 18.7" W x 14.4" D
Weight and Dimensions (Metric): 10.9 kg, 14 cm H x 47.5 cm W x 36.6 cm D
Original Mac OS: System 6.0.1
Maximum Mac OS: System 7.5.5
Firmware: Macintosh ROM
Model Number: M5840
Logicboard RAM: None
Maximum RAM: 128 MB
Type of RAM Slots: 8 - 30 pin SIMMs (Groups of 4) (4 MB or larger modules must be PAL SIMMs)
Minimum RAM Speed: 120 ns
Interleaving Support: No
Graphics Card: None
Graphics Memory: None
Built-in Display: (Requires Video Card)
Display Connection:—
Expansion Slots: 6 - NuBus
Hard Drive Bus: SCSI
Backup Battery: 3.6 V Lithium
Max Watts: 230 W
Ethernet: None
Modem: None
ADB: 2
Serial: 2
SCSI: 1 - DB-25
USB: None
FireWire: None
Audio In: None
Audio Out: stereo 8 bit
Timeline
Introduced in 1988, the Macintosh IIx was in production till October 1990
Videos