Macintosh IIsi
Introduced: October 1990
Terminated: March 1993
Description
The Macintosh IIsi had a Motorola 68030 processor running at 20 MHz. The 1MB RAM was expandable to 65MB. It was shipped with either a 40 or 80MB hard drive. The streamlined case included a 1.44MB floppy drive. The Macintosh IIsi had a number of ports and was the first Macintosh with built-in sound capabilities.
As a cheaper version of other computers in the Macintosh II line, some features were limited to cut costs. There were fewer expansion slots and lesser video capabilities. The speakers also suffered from some technical problems and were known to fail.
History
Designed as a cheaper version of the IIci that would be suitable for home use, the Macintosh IIsi was the first Macintosh with built-in sound capabilities, meaning that it could be used to record sound. Because the pared down machine required less, the Macintosh IIsi could fit into a much smaller case.
Photos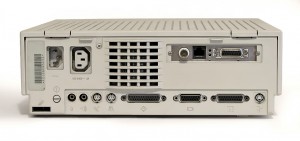 Specifications
Processor: Motorola 68030
Processor Speed: 20 MHz
Cache: 0.5 k L1
System Bus: 20 MHz
Hard Drive: 40 - 80 MB
Media: 1.44 MB floppy
Weight and Dimensions (US): 10 lbs. 4" H x 12.4" W x 14.9" D
Weight and Dimensions (Metric): 4.5 kg, 0 cm H x 31.5 cm W x 37.8 cm D
Original Mac OS: System 6.0.7
Maximum Mac OS: Mac OS 7.6.1
Firmware: Macintosh ROM
Model Number: M0360
Logicboard RAM: 1 MB
Maximum RAM: 65 MB
Type of RAM Slots: 4 - 30 pin SIMMs (Groups of 4)
Minimum RAM Speed: 100 ns
Interleaving Support: No
Graphics Card: None
Graphics Memory: 64-320 k (shared system RAM)
Built-in Display:—
Display Connection: DB-15
Expansion Slots: 1 NuBus or PDS
Hard Drive Bus: SCSI
Backup Battery: 3.6 V Lithium
Max Watts: 160 W
Ethernet: None
Modem: None
ADB: 1
Serial: 2
SCSI: 1 - DB-25
USB: None
FireWire: None
Audio In: mono 8 bit (mic included)
Audio Out: stereo 8 bit
Timeline
Introduced in October 1990, the IIsi was in production until March 1993.
Videos