Macintosh IIfx
Introduced: March 1990
Terminated: April 1992
Description
The Macintosh IIfx had a clock rate of 40MHz, which was very impressive at that time. It also had 32K in a level two cache and six NuBus expansion slots. Application-specific integrated circuits (ASICs) and coprocessors made for even faster speeds. The IIfx had eight RAM slots that meant the 4MB could be expanded to 128MB. The Macintosh IIfx could hold up to two Super Drives along with an internal hard drive.
History
The Macintosh IIfx was the high-end model of its day with a price range of between $10,000-12,000. Everything in the computer was designed for maximum speed and performance. Software had to be written especially for the IIfx that would take advantage of the speed capabilities.
Photos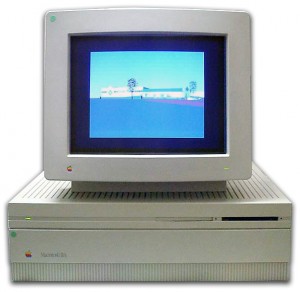 Specifications
Processor: Motorola 68030
Processor Speed: 40 MHz
Cache: 0.5 k L1, 32k L2
System Bus: 40 MHz
Hard Drive: 40 - 160 MB
Media: 2 x 1.44 MB floppy
Weight and Dimensions (US): 24 lbs., 5.5" H x 18.7" W x 14.4" D
Weight and Dimensions (Metric): 10.9 kg, 14 cm H x 47.5 cm W x 36.6 cm D
Original Mac OS: System 6.0.5
Maximum Mac OS: Mac OS 7.6.1
Firmware: Macintosh ROM
Model Number: M5525
Logicboard RAM: None
Maximum RAM: 128 MB
Type of RAM Slots: 8 - 64 pin SIMMs (Groups of 4)
Minimum RAM Speed: 80 ns
Interleaving Support: No
Graphics Card: None
Graphics Memory: (Requires Video Card)
Built-in Display:—
Display Connection:—
Expansion Slots: 6 NuBus, 1 PDS
Hard Drive Bus: SCSI
Backup Battery: 3.6 V Lithium
Max Watts: 230 W
Ethernet: None
Modem: None
ADB: 2
Serial: 2
SCSI: 1 - DB-25
USB: None
FireWire: None
Audio In: None
Audio Out: stereo 8 bit
Timeline
Introduced in March of 1990, the Macintosh IIfx was the most powerful Macintosh until it was replaced with the Quadra series in 1992.
Videos