Macintosh IIci
Introduced: September 1989
Terminated: February 1993
Description
The Macintosh IIci had the same case and three expansion slots as the Macintosh IIcx. The processor chips were improved from 16-bit to 32-bit and the hard drive came in either 40 or 80MB varieties.
The built-in graphics card meant that there was an extra free expansion slot. However, this also meant that the computer's RAM was now being used to run the graphics.
History
Many of the improvements worth noting in the Macintosh IIci were enhancements at technical and architectural levels. Many of the changes were in preparation for the new operating system software, System 7.
Photos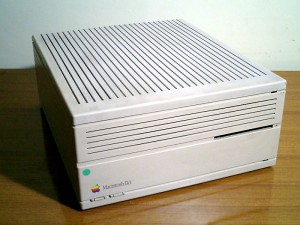 Specifications
Processor: Motorola 68030
Processor Speed: 25 MHz
Cache: 0.25 KB L1, Optional 32 KB L2
System Bus: 25 MHz
Hard Drive: 40 - 80 MB
Media: 1.44 MB floppy
Weight and Dimensions (US): 13.6 lbs., 5.5" H x 11.9" W x 14.4" D
Weight and Dimensions (Metric): 6.2 kg, 14 cm H x 30.2 cm W x 36.6 cm D
Original Mac OS: System 6.0.4
Maximum Mac OS: Mac OS 7.6.1
Firmware: Macintosh ROM
Model Number: M5780
Logicboard RAM: None
Maximum RAM: 128 MB
Type of RAM Slots: 8 - 30 pin SIMMs (Groups of 4)
Minimum RAM Speed: 80 ns
Interleaving Support: No
Graphics Card: None
Graphics Memory: 1 MB DRAM
Built-in Display:—
Display Connection: DB-15
Expansion Slots: 3 NuBus, 1 Cache bus (PDS)
Hard Drive Bus: SCSI
Backup Battery: 3.6 V Lithium
Max Watts: 159 W
Ethernet: None
Modem: None
ADB: 2
Serial: 2
SCSI: 1 - DB-25
USB: None
FireWire: None
Audio In: None
Audio Out: stereo 8 bit
Timeline
In 1989, when the Macintosh IIci was released, it was the fastest Macintosh being sold. Its popularity was such that it remained in production until February of 1993.
Videos