Macintosh II
Introduced: March 1987
Terminated: January 1990
Description
The Motorola 68020 processor ran at speeds of up to 16Mhz. The 1MB memory was expandable up to 20MB or 68MB using the SuperDrive upgrade kit. It had a number of expansion slots that could be used for Apple or third-party add-ons. The Macintosh II was considerably faster than previous models.
The first Macintosh capable of color graphics had a screen resolution of 640x480 and offered a choice of 256 colors.
History
The entry-level Macintosh II retailed for $3,898 while the high end model cost $5,498. It was the first Macintosh to come in a modular configuration. Rather than a single case containing both the CPU and the monitor the Macintosh II left the choice of monitors to users. This was a good way of taking advantage of one of the key features of the Macintosh II: full color graphics.
The Macintosh II was the first Macintosh to use the infamous "Chimes of Death" and display the "Sad Mac" logo when major hardware errors occurred.
Photos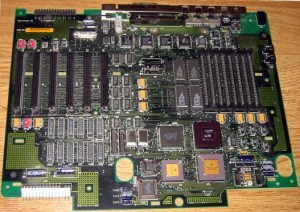 Specifications
Processor: Motorola 68020
Processor Speed: 16 MHz
Cache: 0.25 k L1
System Bus: 16 MHz
Hard Drive: Optional 40 MB - 80 MB
Media: 2 x 800k Floppy
Weight and Dimensions (US): 24 lbs., 5.5" H x 18.7" W x 14.4" D
Weight and Dimensions (Metric): 10.9 kg, 14 cm H x 47.5 cm W x 36.6 cm D
Original Mac OS: System File 3.0, Finder 5.1
Maximum Mac OS: System 7.5.5
Firmware: Macintosh ROM
Model Number: M5000
Logicboard RAM: None
Maximum RAM: 20 MB (68 MB via FDHD upgrade kit)
Type of RAM Slots: 8 - 30 pin SIMMs (Groups of 4) (4 MB or larger modules must be PAL SIMMs)
Minimum RAM Speed: 120 ns
Interleaving Support: No
Graphics Card: None
Graphics Memory: None
Built-in Display: (Requires Video Card)
Display Connection:—
Expansion Slots: 6 - NuBus
Hard Drive Bus: SCSI
Backup Battery: 3.6 V Lithium
Max Watts: 230 W
Ethernet: None
Modem: None
ADB: 2
Serial: 2
SCSI: 1 - DB-25
USB: None
FireWire: None
Audio In: None
Audio Out: stereo 8 bit
Timeline
The Macintosh II was introduced at the same time as the Macintosh SE in 1987. It was in production until 1990 when it was replaced by newer models.
Videos