Macintosh Color Classic/Color Classic II
Introduced: February 1993
Terminated: May 1994
Description
The Macintosh Color Classic was the same as the Macintosh Classic II just a few additions. Most notable was the color screen. It was the first compact Macintosh to have a built-in color screen. The 10" RGB screen had a resolution of 512 x 348 and could display 256 colors. The Color Classic also had increased VRAM and a new, restyled case.
The Color Classic II increased the processor speed to 33MHz and added a stereo sound output.
History
The first compact Macintosh to feature a built-in color screen. It was also the first all-in-one Macintosh to feature an easily accessible motherboard. Undoing two latches in the back and sliding it out could remove the motherboard.
The Color Classic II was only sold in Japan.
Photos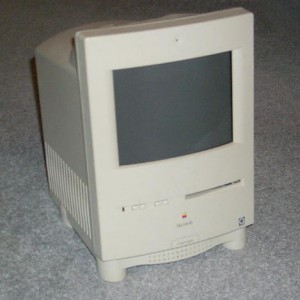 Specifications
Processor: Motorola 68030
Processor Speed: 16 MHz
Cache: 0.5 k L1
System Bus: 16 MHz
Hard Drive: 40, 80, or 160 MB
Media: 1.44 MB floppy
Weight and Dimensions (US): 22.5 lbs., 14.5" H x 9.9" W x 12.6" D
Weight and Dimensions (Metric): 10.2 kg, 36.8 cm H x 25.1 cm W x 32 cm D
Original Mac OS: System 7.1 (System Enabler 401)
Maximum Mac OS: Mac OS 7.6.1
Firmware: Macintosh ROM
Model Number:—
Logicboard RAM: 4 MB
Maximum RAM: 10 MB
Type of RAM Slots: 2 - 30 pin SIMMs
Minimum RAM Speed: 100 ns
Interleaving Support: No
Graphics Card: None
Graphics Memory: 256k - 512k (256 colors with 256k VRAM) (32,768 colors with 512k VRAM)
Built-in Display: 10" RGB 512 x 348
Display Connection:—
Expansion Slots: 1 - LC PDS
Hard Drive Bus: SCSI
Backup Battery: 3.6 V Lithium
Max Watts: 100 W
Ethernet: None
Modem: None
ADB: 2
Serial: 2
SCSI: 1 - DB-25
USB: None
FireWire: None
Audio In: 1 - 3.5-mm analog input jack
Audio Out: 1 - 3.5-mm analog output jack
Timeline
Introduced in February 1993, the Macintosh Color Classic was discontinued in May of 1994.
Videos