Macintosh Classic
Introduced: October 1990
Terminated: September 1992
Description
As an all-in-one compact Macintosh, the Macintosh Classic was similar to the Macintosh Plus. It ran a Motorola 68000 processor at speeds of up to 8MHz. It had a single 3.5" floppy drive. The Macintosh Classic was very limited in terms of expandability. The 1MB of RAM was expandable to 4MB. There were no expansion slots for video or Ethernet.
History
The Macintosh Classic was Apple's first attempt to make an inexpensive computer. The entry-level model was $999, while the addition of a hard drive and increased RAM bumped the price to $1500.
The low price made the Macintosh Classic a popular computer with schools and regular consumers; however, the budget price meant that the computer itself did not offer significant improvements over the Macintosh Plus, introduced four years earlier.
Photos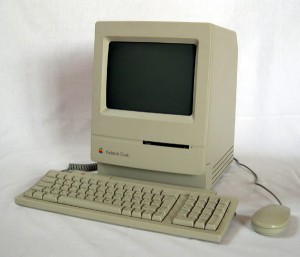 Specifications
Processor: Motorola 68000
Processor Speed: 8 MHz
Cache: None
System Bus: 8 MHz
Hard Drive: 40 MB
Media: 1.44 MB floppy
Weight and Dimensions (US): 16 lbs., 13.2" H x 9.7" W x 11.2" D
Weight and Dimensions (Metric): 7.3 kg, 33.5 cm H x 24.6 cm W x 28.4 cm D
Original Mac OS: System 6.0.7
Maximum Mac OS: System 7.5.5
Firmware: Macintosh ROM
Model Number: M0420
Logicboard RAM: 1 MB
Maximum RAM: 4 MB
Type of RAM Slots: 2 - 30 pin SIMMs on Memory Expansion Card
Minimum RAM Speed: 120 ns
Interleaving Support: No
Graphics Card: None
Graphics Memory: None
Built-in Display: 9" 1 bit 512 x 342
Display Connection:—
Expansion Slots: None
Hard Drive Bus: SCSI
Backup Battery: 3.6 V Lithium
Max Watts: 76 W
Ethernet: None
Modem: None
ADB: 1
Serial: 2
SCSI: 1 - DB-25
USB: None
FireWire: None
Audio In: 1 - 3.5-mm analog input jack
Audio Out: 1 - 3.5-mm analog output jack
Timeline
The Macintosh Classic was introduced in October 1990 and terminated when it was replaced by other models in 1992.
Videos