Macintosh Classic II
Introduced: October 1991
Terminated: September 1993
Description
Running a Motorola 68030 processor at 16MHz, the Macintosh Classic II had a restyled case that gave it a different look from the Macintosh Classic. It was available with either a 40 or 80MB hard drive and had a 1.44MB floppy drive. The 2MB of RAM was expandable to 10MB.
History
The Macintosh Classic II was the last black and white compact in the Macintosh line. While there were some improvements, like the Macintosh Classic, it was somewhat limited. Additionally, compared to other Macintoshes on the market, it was not especially fast. For example, the Macintosh SE/30 was thirty percent faster. However, given that the cost was much less for a Classic II, it was a relatively popular computer.
Photos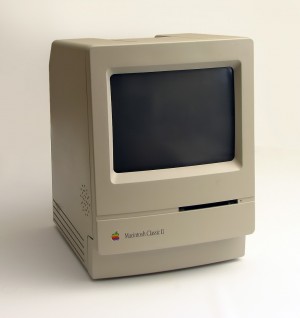 Specifications
Processor: Motorola 68030
Processor Speed: 16 MHz
Cache: 0.5 k L1
System Bus: 16 MHz
Hard Drive: 40 or 80 MB
Media: 1.44 MB floppy
Weight and Dimensions (US): 16 lbs., 13.2" H x 9.7" W x 11.2" D
Weight and Dimensions (Metric): 7.3 kg, 33.5 cm H x 24.6 cm W x 28.4 cm D
Original Mac OS: System 7.0.1
Maximum Mac OS: Mac OS 7.6.1
Firmware: Macintosh ROM
Model Number:—
Logicboard RAM: 2 MB
Maximum RAM: 10 MB
Type of RAM Slots: 2 - 30 Pin SIMMs (Groups of 2)
Minimum RAM Speed: 100 ns
Interleaving Support: No
Graphics Card: None
Graphics Memory: None
Built-in Display: 9" 1 bit 512 x 342
Display Connection:—
Expansion Slots: None
Hard Drive Bus: SCSI
Backup Battery: 3.6 V Lithium
Max Watts: 76 W
Ethernet: None
Modem: None
ADB: 1
Serial: 2
SCSI: 1 - DB-25
USB: None
FireWire: None
Audio In: 1 - 3.5-mm analog input jack
Audio Out: 1 - 3.5-mm analog output jack
Timeline
The Macinosh Classic II was introduced in October 1991 and discontinued in September of 1993.
Videos