Macintosh Centris 660AV/Macintosh Quadra 660AV
Introduced: July 29, 1993
Terminated: September 12, 1994
Description
The Macintosh Centris 660AV/Macintosh Quadra 660AV, as its name indicated, combined audio-visual elements with the overall design. The low-profile case seen in the Centris and Quadra 610 were used. It had a 25Mhz 68040 processor and a 55MHz digital signal processor. It included a port that could be used as a modem with telecom adapter. The s-video and composite video in and outs rounded out the audio/video features.
History
The Centris 660AV/Macintosh Quadra 660AV had many features which had not been seen in Macintosh before. Speech recognition, the ability to talk, digitized sound were combined with the new digital signal processor that enabled the 660av to handle all the sound and video information.
One of the problems with the 660AV was that it was not compatible with many Macintosh monitors. For some a cable could be purchased, but others did not work at all.
Photos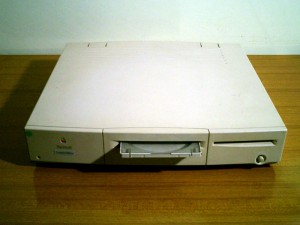 Specifications
Processor: Motorola 68040
Processor Speed: 25 MHz
Cache: 8 KB L1
System Bus: 25 MHz
Hard Drive: 160 MB
Media: 2x CD-ROM, 1.44 MB floppy
Weight and Dimensions (US): 14 lbs., 3.4" H x 16.3" W x 15.6" D
Weight and Dimensions (Metric): 6.4 kg, 8.6 cm H x 41.4 cm W x 39.6 cm D
Original Mac OS: System 7.1 (System Enabler 088 v1.0)
Maximum Mac OS: Mac OS 8.1
Firmware: Macintosh ROM
Model Number:—
Logicboard RAM: 4 MB
Maximum RAM: 36 MB
Type of RAM Slots: 1 - 72 pin SIMMs
Minimum RAM Speed: 80 ns
Interleaving Support: No
Graphics Card: None
Graphics Memory: 1 MB
Built-in Display: None
Display Connection: DB-15
Expansion Slots: 1 - 7" NuBus
Hard Drive Bus: SCSI
Backup Battery: 3.6 V Lithium
Max Watts: 86 W
Ethernet: AAUI-15
Modem: None
ADB: 1
Serial: 2
SCSI: 1 - DB-25
USB: None
FireWire: None
Audio In: stereo 16 bit (mono mic included)
Audio Out: stereo 16 bit
Timeline
The Macintosh Centris 660AV/Macintosh Quadra 660AV was in production from July 1993 to September 1994.
Videos