Macintosh Centris 650/Macintosh Quadra 650
Introduced: October 1993
Terminated: September 1994
Description
Upgrading on the success of the Centris 610/Quadra 610, the Centris 610 originally had a 25MHz Motorola 68040 processor. When it was replaced by the Quadra 650, running a 33MHz Motorola 68040 processor. The Macintosh Centris 650/Macintosh Quadra 650 went out in a IIvx-styled case.
History
The Macintosh Centris 650/Macintosh Quadra 650 was positioned as a higher-end Macintosh targeted towards business users with a retail price of $2,700.
Photos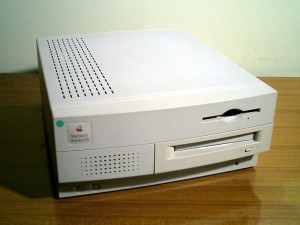 Specifications
Processor: Motorola 68040
Processor Speed: 33 MHz
Cache: 8 KB L1
System Bus: 33 MHz
Hard Drive: 80-500 MB
Media: 2x CD-ROM, 1.44 MB floppy
Weight and Dimensions (US): 25 lbs., 6" H x 13" W x 16.5" D
Weight and Dimensions (Metric): 11.3 kg, 15.2 cm H x 33 cm W x 41.9 cm D
Original Mac OS: System 7.1 (System Enabler 040 v1.1)
Maximum Mac OS: Mac OS 8.1
Firmware: Macintosh ROM
Model Number:—
Logicboard RAM: 4/8 MB
Maximum RAM: 132/136 MB
Type of RAM Slots: 4 - 72 pin SIMMs
Minimum RAM Speed: 80 ns
Interleaving Support: Yes
Graphics Card: None
Graphics Memory: 1 MB
Built-in Display: None
Display Connection: DB-15
Expansion Slots: 3 NuBus and 1 PDS
Hard Drive Bus: SCSI
Backup Battery: 3.6 V Lithium
Max Watts: 230 W
Ethernet: AAUI-15
Modem: None
ADB: 1
Serial: 2
SCSI: 1 - DB-25
USB: None
FireWire: None
Audio In: Mono 8 bit
Audio Out: stereo 8 bit
Timeline
The Macintosh Centris 650/Macintosh Quadra 650 was in production from October of 1993 to September 1994.
Videos