Macintosh 512K/512Ke
Introduced: September 1984
Terminated: September 1987
Description
The second computer of the Macintosh line, the Macintosh 512K was not dramatically different from the first. The largest change was the increase in internal memory from 128K to 512K.
Several new software programs from Apple became available after this release. In addition to the MacWrite and MacPaint that it came with MacDraw, MacProject, and Macintosh Pascal were available.
The Macintosh 512KE offered a few more improvements: an 800K floppy drive and a 128K ROM, but was in all other respects identical to the 512K.
History
Apart from quadrupling the internal memory, the Macintosh 512K was not much different from the original Macintosh. The larger memory earned it the nickname "Fat Mac," while the original 128K became known as the "Thin Mac." It had a selling price of $3,195.
The Macintosh 512KE was introduced as a less expensive alternative to another release, the Mac Plus. It was $1,999 and was sold to education buyers as the Macintosh ED. Existing 512K owners could upgrade by purchasing a $299 kit.
Photos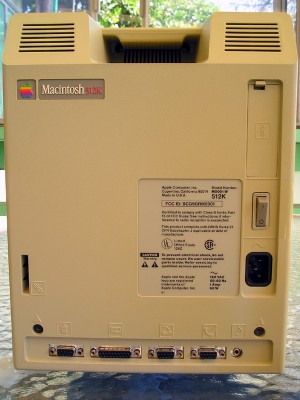 Specifications
Processor Speed: 8 MHz
Cache: None
System Bus: 8 MHz
Hard Drive: None
Media: 400 k (512k) or 800 k (512ke)
Weight and Dimensions (US): 16.5 lbs., 13.6" H x 9.6" W x 10.9" D
Weight and Dimensions (Metric): 7.5 kg, 34.5 cm H x 24.4 cm W x 27.7 cm D
Original Mac OS: System File 1.1, Finder 1.1g (512k) System File 3.0, Finder 5.1 (ke)
Maximum Mac OS: System File 4.1, Finder 5.5
Firmware: Macintosh ROM
Model Number: M0001W (512k) M0001E (512ke) M0001D (EDU 512ke)
Logicboard RAM: 512k
Maximum RAM: 512k
Type of RAM Slots:—
Minimum RAM Speed:—
Interleaving Support: No
Graphics Card: None
Graphics Memory: None
Built-in Display: 9-inch 512 x 342
Display Connection:—
Expansion Slots: None
Hard Drive Bus: None
Backup Battery: 4.5 V Alkaline
Max Watts: 60 W
Ethernet: None
Modem: None
ADB: None
Serial: 2 - RS-422, 1 - DE-9
SCSI: None
USB: None
FireWire: None
Audio In: None
Audio Out: 1 - Built-in speaker (8-bit 22-kHz)
Timeline
Introduced in September of 1984, the Macintosh 512K was replaced by the 512KE in April of 1986. The 512KE was discontinued in September of 1997.
Videos