Macintosh 128K
Introduced: January 1984
Terminated: October 1985
Description
Originally released as simply the Macintosh, the Macintosh 128K was the first of the Macintosh line. The single beige case contained a nine-inch monochrome monitor and it came with a 3.5" floppy drive, a keyboard and mouse. The processor was a Motorola 68000 chip that was capable of running at speeds of up to 8Mhz. It had 128K of RAM and 64K of ROM.
A single 400K single-sided floppy disk was, at that time, large enough to store system files, an application and the data files associated with it. However, most users chose to write-protect their Systems and Applications disks, with the result being that they had to switch disks in and out frequently.
The nine-inch monitor had a crisp, clear display with a resolution of 512x342. This was the computer that established the desktop publishing standard of 72 pixels per inch (PPI).
History
The Macintosh 128K was the first GUI-based computer that was affordable to the home user with a price of $2,495. Apple marketed it extensively at its release in 1984, including an ad during the NFL Superbowl. Initial sales were slow and Apple did not license the operating system or the hardware, so there were no third party options available.
The Macintosh 128K was shipped with a few programs: MacWrite and MacPaint. The user interface would become the face of the Macintosh line and the inspiration for IBM's Windows and other GUIs.
In 1985, sales were increased with the release of Aldus Pagemaker and the LaserWriter printer, which, for the first time, made home desktop publishing possible.
Because it was sold without a cooling fan at Steve Jobs' insistence, the computer ran very quietly but was prone to overheating. Because of this and the design of the floppy driver, the Macintosh 128 was nicknamed the "beige toaster."
Photos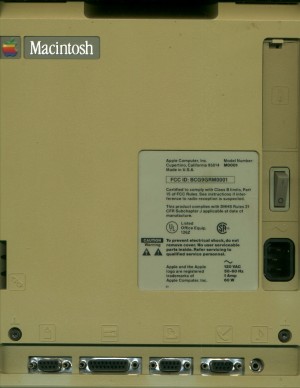 Specifications
Processor: Motorola 68000
Processor Speed: 8 MHz
Cache: None
System Bus: 8 MHz
Hard Drive: None
Media: 400k Floppy
Weight and Dimensions (US): 16.5 lbs., 13.6" H x 9.6" W x 10.9" D
Weight and Dimensions (Metric): 7.5 kg, 34.5 cm H x 24.4 cm W x 27.7 cm D
Original Mac OS: System File 1.0, Finder 1.0
Maximum Mac OS: System File 3.2, Finder 5.3
Firmware: Macintosh ROM
Model Number: M0001
Logicboard RAM: 128k
Maximum RAM: 4 MB (Third Party Upgrade)
Type of RAM Slots:—
Minimum RAM Speed:—
Interleaving Support: No
Graphics Card: None
Graphics Memory: None
Built-in Display: 9-inch 512 x 342
Display Connection: None
Expansion Slots: None
Hard Drive Bus: None
Backup Battery: 4.5 V Alkaline
Max Watts: 60 W
Ethernet: None
Modem: None
ADB: None
Serial: 2 - RS-422, 1 - DE-9
SCSI: None
USB: None
FireWire: None
Audio In: None
Audio Out: 1 - Built-in speaker (8-bit 22-kHz)
Timeline
The Macintosh 128K was released in January of 1984 and produced until October of 1985 when newer models made the 128K obsolete.
Videos