MacBook Pro (15-inch Core 2 Duo)
Introduced: October 2006
Terminated: June 2007
Description
The MacBook Pro (Late 2006) included Intel Core2 Duo processors. The 15.4" configuration also got the FireWire 800 port missing from the original MacBook Pro as well as a dual layer SuperDrive. There were three configurations. The first was 15.4" and ran at 2.16Ghz, had a 120Gb hard drive and 1Gb of RAM. The midrange was 15.4" and ran at 2.33Ghz. It had 120Gb of hard drive space and 2Gb of RAM. The high-end 17" configuration ran at 2.33Ghz, had 160Gb of hard drive space and 2Gb of RAM.
History
The MacBook Pro (Late 2006) was a speed bump of the MacBook Pro line that brought the 15.4" and the 17.1" models to the same release schedule. It also brought back some high-end features, especially the FireWire 800 port that had not been included in the previous model.
Photos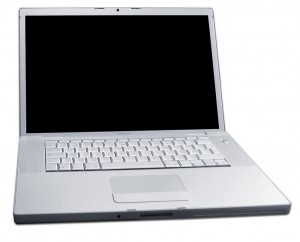 Specifications
Processor: Intel Core 2 Duo (T7400, T7600) ("Merom")
Number of Cores: 2
Processor Speed: 2.16 or 2.33 GHz
Benchmarks: 2.16 GHz: 2773, 2.33 GHz: 2970
Cache: 4 MB on chip shared L2 cache
System Bus: 667 MHz
Hard Drive: 120 or 160 GB 5400-rpm or 200 GB 4200-rpm
Media: 6x Slot-loading SuperDrive (DVD+R DL/DVD±RW/CD-RW)
Trackpad: Solid-state trackpad supports tap, double-tap, drag and scrolling
Keyboard: Full size (78 (U.S.) or 79 (ISO) keys incl. 12 function, 4 arrow, embedded keypad), illuminated with ambient light sensor
Case: Lightweight aluminum alloy
Weight and Dimensions (US): 5.6 lbs., 1" H x 14.1" W x 9.6" D
Weight and Dimensions (Metric): 2.54 kg, 2.59 cm H x 35.7 cm W x 24.3 cm D
Original Mac OS: Mac OS X 10.4.8 (8N1037, 8N1051, 8N1430)
Later Mac OS:—
Maximum Mac OS: Latest release of Mac OS X
Hardware Test: AHT 3A115
Firmware: Intel Extensible Firmware Interface (EFI)
Firmware Update: None
Logicboard RAM: None
Maximum RAM: 3.0 GB (4.0 GB can be installed, only 3.0 GB will be addressed)
Type of RAM Slots: 2 - 200-pin PC2-5300 (667MHz) DDR2 SO-DIMM
Minimum RAM Speed:—
Interleaving Support: Yes
Graphics Card: ATI Mobility Radeon X1600
ATI Card Model: ATY,RadeonX1600
Graphics Connection: PCI Express
Graphics Memory: 128 (2.16 GHz) or 256 (2.33 GHz) MB GDDR3
Built-in Display: 15.4-inch (diagonal) TFT, Optional glossy display
Resolutions: 1440 by 900 (native), 1280 by 800, 1152 by 720, 1024 by 768, 1024 by 640, 800 by 600, 800 by 500, 720 by 480 and 640 by 480 at 16:10 aspect ratio; 1024 by 768, 800 by 600, and 640 by 480 pixels at 4:3 aspect ratio; 720 by 480 at 3:2 aspect ratio
Display Modes: Dual display extended and video mirroring
Display Connection: 1 - Dual-link DVI (VGA, Composite and S-video with adapter)
Video Camera: Built-in iSight
Expansion Slots: 1 - ExpressCard/34
Expansion Bays: None
Hard Drive Bus: 1.5 Gbps Serial ATA (SATA)
Optical Drive Bus: Ultra ATA/100 (running at UATA/66)
Motion Sensor: Sudden Motion Sensor (SMS)
Power Adapter: 85W MagSafe Power Adapter (MA357LL/A)
System Battery: 60-watt-hour lithium-polymer
Battery Life: Up to 5 hours
Max Watts:—
Line Voltage: 100-240V AC
AirPort: Built-in AirPort Extreme card (802.11a/b/g/n)
Bluetooth: Built-in Bluetooth 2.0 + EDR
Ethernet: 10/100/1000BASE-T (RJ-45) (support for jumbo frames)
Infrared: 1 - For Apple Remote only
Modem: Optional Apple USB Modem (MA034Z/A)
USB: 2 - 480 MBit/s
FireWire: 1 - 400 MBit/s, 1- 800 MBit/s
Security Slot: 1 - Kensington cable lock
Audio In: 1 - 3.5-mm analog/optical combo jack, 1 - Built-in microphone
Audio Out: 1 - 3.5-mm analog/optical combo jack, 2 - Built-in speakers
Timeline
Introduced in October 2006, the MacBook Pro (Late 2006) was replaced by newer models in June 2007.
Videos