Mac Pro
Introduced: August 2006
Terminated: n/a
Description
The Mac Pro brought the transition to Intel processors to Mac's professional desktop. It had two dual-core Intel Xeon 5100 Woodcrest processor chips. The exterior of the new Mac Pro was almost the same as the Power Mac before it, but had an additional optical drive bay. There were four hard drive bays that could be used for up to 2Tb of storage. There were also eight RAM slots that could be used for a whopping 16Gb of RAM. The only configuration ran the two dual core chips at 2.66Ghz, had 1Gb of RAM standard, 250Gb of hard drive space and a SuperDrive.
History
The new Mac Pro introduced more than just the Intel chips to professional desktop buyers. Because these customers generally customized their computers at the time of purchase, the Mac Pro was designed to be fully customizable in its single configuration.
Photos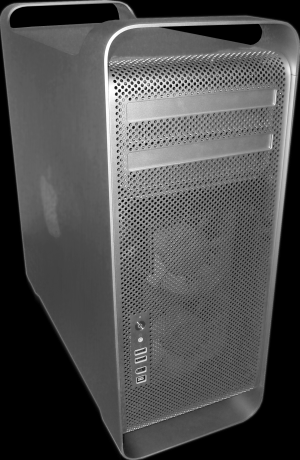 Specifications
Processor: Intel Xeon 5100 series ("Woodcrest")
Number of Cores: 2 per processor
Processor Speed: dual 2.0, dual 2.66, or dual 3.0 GHz
Benchmarks: dual 2.0 GHz: 3894, dual 2.66 GHz: 5014, dual 3.0 GHz: 5565
Cache: 4 MB of shared L2 cache per processor (8 MB total)
System Bus: dual 1.33 GHz
Hard Drive: 160, 250, 500, or 750 GB 7200-rpm
Media: 16x SuperDrive (DVD+R DL/DVD±RW/CD-RW)
Peripherals: Apple Keyboard, Mighty Mouse
Weight and Dimensions (US): 42.4 lbs., 20.1" H x 8.1" W x 18.7" D
Weight and Dimensions (Metric): 19.2 kg, 51.1 cm H x 20.6 cm W x 47.5 cm D
Original Mac OS: Mac OS X 10.4.7 (8K1079)
Later Mac OS: Mac OS X 10.4.8 (8N1430)
Maximum Mac OS: Latest release of Mac OS X
Hardware Test: AHT 3A109, 3A119
Firmware: Intel Extensible Firmware Interface (EFI)
Firmware Update: Mac Pro EFI Firmware Update 1.1
Firmware Update URL: http://www.apple.com/support/downloads/macproefifirmwareupdate11.html
Logicboard RAM: None
Maximum RAM: 16 GB
Type of RAM Slots: 8 - 240-pin PC2-5300 (667MHz) DDR2 ECC fully-buffered DIMM (FB-DIMM) (matched pairs)
Minimum RAM Speed:—
Interleaving Support: Yes
Graphics Card: NVIDIA GeForce 7300 GT, Quadro FX 4500, or ATI Radeon X1900 XT
ATI Card Model:—
Graphics Memory: 256 MB (7300 GT) or 512 MB (FX 4500, X1900 XT)
Built-in Display: None
Display Modes: Dual display extended and video mirroring
Display Connection: 1 - DVI and 1 - dual-link DVI (7300 GT) or 2 - dual-link DVI and 1 - stereo 3D port (FX 4500) or 2 - dual-link DVI (X1900 XT)
Expansion Slots: 4 - PCI Express (bandwidth is system and user configurable)
Expansion Bays: 4 - Internal 3.5" Serial ATA drive bays, 2 - optical drive bays
Hard Drive Bus: 4 - 3.0 Gbps Serial ATA (SATA) controllers
Large Drive Support: Yes (128 GB or larger per drive)
Optical Drive Bus: 2 - Ultra ATA/100, 2 - 3.0 Gbps Serial ATA (SATA)
Backup Battery: 3 V Lithium (922-6476)
Max Watts: 980 W
Line Voltage: 100-120V AC or 200-240V AC
AirPort: Optional AirPort Extreme card (802.11a/b/g/n)
Bluetooth: Optional Bluetooth 2.0 + EDR
Ethernet: 2 - 10/100/1000BASE-T ports (support for jumbo frames)
Modem: Optional Apple USB Modem (MA034Z/A)
USB: 5 - 480Mbps
FireWire: 2 - 400 MBit/s, 2 - 800 MBit/s
Audio In: 1 - 3.5-mm analog input jack, 1 - optical S/PDIF (Toslink) input (24-bit 44.1 kHz sample rate)
Audio Out: 2 - 3.5-mm analog output jacks, 1 - optical S/PDIF (Toslink) output, 1 - Built-in speaker (24-bit 44.1 kHz sample rate)
Timeline
The Mac Pro was introduced in August 2006.
Videos