Lisa
Introduced: January 1983
Terminated: January 1984
Description
The Lisa was one of the first personal computers to have a Graphical User Interface (GUI) and a mouse. The GUI was far more advanced than other offerings at that time. The Lisa had a Motorola 68000 Processor that allowed it to run at speeds of up to 5 Mhz. It also had 1 MB of RAM and duel 5.25" floppy drives. Included was an external hard drive with an external 5 MB hard drive. The 12" monochrome monitor was built-in.
The operating system was very advanced for the time, featuring cooperative multitasking and virtual memory. The performance was sometimes slow because of the use of both virtual memory and relatively slow disk speed. The Lisa had two user modes, one for the end user and one for program development. The seven included applications with the Lisa were: LisaWrite (a word processor), LisaCalc (a spread sheet program), LisaGraph (a chart making program), LisaList (an idea manager), LisaProject (a project scheduler) LisaDraw (a drawing program) and LisaTerminal (modem communications software).
History
The Lisa was the result of years of work. Officially, the name Lisa is an acronym for Local Integrated Software Architecture. However, Lisa is also the name of Steve Jobs' first daughter and it is widely thought that the acronym was created to suit that name. The Lisa was a commercial failure for Apple. Its high price of $9,995 was a deterrent for many buyers. The Lisa was aimed towards business customers with the GUI as a major selling point. However, for the most part, customers preferred the cheaper non-GUI IBM PCs. One of the major problems with the Lisa was the lack of third-party software. This was caused, in large part, by the fact that software for the Lisa could not be made on the Lisa. For the most part, it was limited to the seven applications that Apple had deemed capable of doing everything necessary.
Although it was largely considered a failure, there were several things that made the Lisa important. Though it was limited, the Lisa could perform certain tasks very well and for a time, it was standard to have one or two many medium sized offices. Basically, the Lisa introduced the concept of GUI to many people, even if the large price tag meant that few units were actually sold. This paved the way for later GUI-based personal computers.
Photos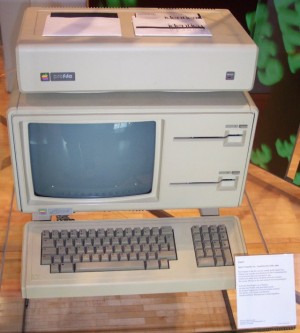 Specifications
Processor: Motorola 68000
Processor Speed: 5 MHz
Cache: None
System Bus: 5 MHz
Hard Drive: 10 MB Internal or 5 - 10 MB External
Media: 400k Floppy
Weight and Dimensions (US): 48 lbs., 15.2" H x 18.7" W x 13.8" D
Weight and Dimensions (Metric): 21.8 kg, 38.6 cm H x 47.5 cm W x 35.1 cm D
Original Mac OS: MacWorks
Maximum Mac OS: MacWorks 6.0.5
Firmware: Macintosh ROM
Model Number:—
Logicboard RAM: None
Maximum RAM: 2 MB
Type of RAM Slots: 2 - Lisa Cards
Minimum RAM Speed:—
Interleaving Support: No
Graphics Card: None
Graphics Memory: None
Built-in Display: 12" 720 x 360 (B and W)
Display Connection: RCA
Expansion Slots: 3 Proprietary
Hard Drive Bus: None
Backup Battery: 4.8 V NICAD or None
Max Watts: 150 W
Ethernet: None
Modem: None
ADB: None
Serial: 2 - RS 232
SCSI: None (2-port parallel)
USB: None
FireWire: None
Audio In: None
Audio Out: Continuously Variable Slope Demodulator (CVSD)
Timeline
The Lisa was unveiled in January of 1983. In June of that year, the Lisa began shipping out, with the marketing beginning a month later. The initial model was only produced through January of 1984 when it was replaced by the Lisa II.
Videos