LaserWriter Plus
Introduced: January 1, 1986
Terminated: February 1, 1988
Description
The LaserWriter Plus was virtually identical to the original LaserWriter. The primary differences were the change in laser technology and the amount of memory. The original LaserWriter used electrophotography to print while the LaserWriter Plus used an actual laser. Additionally, the ROM was increased from 512KB to 1MB.
History
The LaserWriter Plus, released over a year after the original LaserWriter, was not very different from the first. As part of the much-hyped "Macintosh Office," the LaserWriter Plus capitalized on some newer technical advancements but in all other respects was the same.
Photos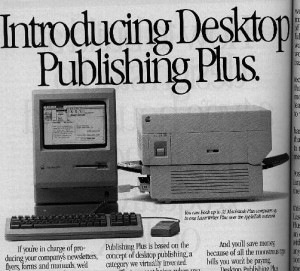 Specifications
Type: Laser
Processor: Motorola 68000
Processor Speed: 12 MHz
Language: PostScript Diablo 630
Colors: 1
Connection: Serial and LocalTalk
Pages Per Minute: 8
DPI: 300
Cartridge: M0180 or HP 92285A
Power: 760 W
Weight and Dimensions (US): 77 lbs., 11.5" H x 18.5" W x 16.2" D
Weight and Dimensions (Metric): 34.9 kg, 29.2 cm H x 47 cm W x 41.1 cm D
ROM Size: 1 MB
Maximum RAM: 1.5 MB
Type of RAM Slots: 1
Minimum RAM Speed:—
Timeline
The LaserWriter Plus debuted in early 1986 and was produced until 1988 when it was replaced with more advanced models.
Videos