LaserWriter IISC
Introduced: January 1, 1988
Terminated: July 1, 1990
Description
The LaserWriter IISC is a laser printer produced by Apple. It had a Motorola 68000 processor that could run at speeds of up to 7.5Mhz. It used the QuickDraw interpreter and an SCSI interface.
The LaserWriter IISC had a 300 DPI and could produce about eight pages a minute.
History
The LaserWriter IISC was a less expensive alternative to the other models in the LaserWriter II line. Using QuickDraw instead of Adobe PostScript helped the price of the machine, but also limited its capabilities. Instead of the LocalTalk network, the SCSI interface was used, another cost saving measure. However, it meant that the printer was only compatible with Macintosh computers.
Photos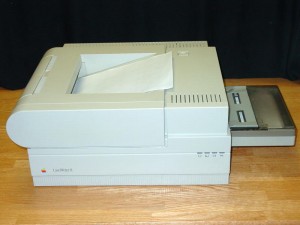 Specifications
Type: Electrophotography
Processor: Motorola 68000
Processor Speed: 7.45 MHz
Language: QuickDraw
Colors: 1
Connection: SCSI
Pages Per Minute: 8
DPI: 300
Cartridge: M6002
Power: 900 W
Weight and Dimensions (US): 45 lbs., 8.7" H x 20.2" W x 18.7" D
Weight and Dimensions (Metric): 20.4 kg, 22.1 cm H x 51.3 cm W x 47.5 cm D
ROM Size: 16k
Maximum RAM: 1 MB
Type of RAM Slots: 4
Minimum RAM Speed: 120 ns
Timeline
The LaserWriter IISC was introduced at the beginning of 1988 and remained in production through July of 1990.
Videos