LaserWriter IIg
Introduced: January 1, 1988
Terminated: October 1, 1991
Description
A Motorola 68000 processor that could run at speeds of up to 11MHz powered the LaserWriter IINT. With a DPI of 300, the LaserWriter IINT could produce about eight pages a minute. The Adobe PostScript interpreter was used and communication was through LocalTalk.
The LaserWriter IINTX was virtually identical to the IINT, but used a Motorola 68020 processor running at a faster speed for better use of the PostScript interpreter.
History
The release of the LaserWriter IINT was intended as a new model in the LaserWriter II line. Unlike the LaserWriter IISC, the LaserWriter IINT and IINTX used more expensive options like PostScript and LocalTalk.
Photos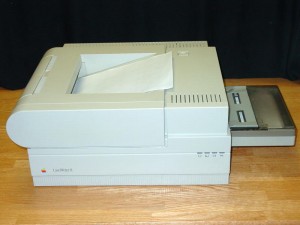 Specifications
Type: Electrophotography
Processor: Motorola 68000
Processor Speed: 11.5 MHz
Language: PostScript Diablo 630
Colors: 1
Connection: Serial and LocalTalk
Pages Per Minute: 8
DPI: 300
Cartridge: M6002
Power: 900 W
Weight and Dimensions (US): 45 lbs., 8.7" H x 20.2" W x 18.7" D
Weight and Dimensions (Metric): 20.4 kg, 22.1 cm H x 51.3 cm W x 47.5 cm D
ROM Size: 1 MB
Maximum RAM: 2 MB
Type of RAM Slots: 4
Minimum RAM Speed: 120 ns
Timeline
Released in 1988, the LaserWriter IINT was in production through 1991.
Videos