LaserWriter 12/640 PS
Introduced: June 1996
Terminated: 1997
Description
The LaserWriter 12/640 PS was a laser printer running an AMD 29040 printer at 30Mhz. It used a PostScript Level 2 interpreter or PCL 5. Communication was through LocalTalk, Bi-Directional Parallel port or Ethernet. It could print 12 pages a minute standard or eight pages a minute using the duplex feature with a DPI of up to 600.
History
The successor of the LaserWriter 16/600 PS, the Laser Writer 12/640 PS came with a faster processor and more memory. It also featured a new duplex feature that allowed it to print on the back of pages without the user having to reinsert the pages.
Photos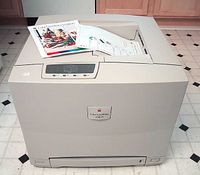 Specifications
Type: Electrophotography
Processor: AMD 29040
Processor Speed: 30 MHz
Language: PostScript Level 2, PCL 5
Colors: 1
Connection: LocalTalk, Bi-Directional Parallel, Ethernet
Pages Per Minute: 12 standard, 8 duplex
DPI: 600
Cartridge: M4683G/A
Power: 790 W
Weight and Dimensions (US): 26.5 lbs., 9.25" H x 15.94" W x 16.65" D
Weight and Dimensions (Metric): 12 kg, 23.5 cm H x 40.5 cm W x 42.3 cm D
ROM Size: 4 MB
Maximum RAM: 64 MB
Type of RAM Slots: 2, 72-pin SIMMs
Minimum RAM Speed: 70 ns
Timeline
Introduced in June 1996, the LaserWriter 12/640 was discontinued in 1997.
Videos