iSight
Introduced: June 2003
Terminated: December 2006
Description
Apple's new webcam, iSight, was a full motion video camera. It shot at 30 frames per second with a resolution of 640 x 480. It used a FireWire connection and had a built-in microphone. The camera had an auto-focus and was noted for its small case.
History
The iSight was released at the Apple World Wide Developers Conference. Its small size and excellent features gave a new Mac standard in the spotty field of web cameras.
Photos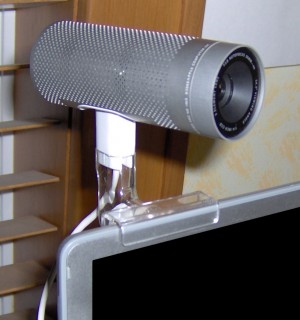 Specifications
Image: 24-bit
Resolution: 640 x 480 VGA
Image Formats:—
Optics: 1/4-inch color CCD
Lens Focal Length:—
Audio: Integrated, dual-element microphone
Range: Autofocus from 50 mm to Infinity
Memory:—
Shutter Speed:—
Weight and Dimensions (US): 2.5 ounces, approx. 3.5" length, 1.38" diameter
Weight and Dimensions (Metric): 70.9 g, approx. 8.9 cm length, 3.5 cm diameter
Ports: FireWire for audio, video and power connection
System Requirements: iChat AV Software, Mac OS X v.10.2.5 or later, 600 MHz G3 Macintosh computer (or faster) with FireWire port
Power: Powered through FireWire connection
Timeline
Introduced in June 2003, the iSight was discontinued in December 2006.
Videos