iPod with touch wheel
Introduced: July 2002
Terminated: April 2003
Description
The iPod with touch wheel replaced the mechanical scroll wheel with a touch wheel that used solid-stat technology. Available with 10 or 20Gb of hard drive space, like the original it had a FireWire input/output and a headphone jack. It had the same 2-inch LCD screen. It shipped with a remote control, a carrying case, earbud headphones, an AC adapter and a FireWire cable. The PC models included an adapter for FireWire.
History
With the new touch wheel, Apple increased the hard drive sizes to 10 and 20Gb. These were the first iPods to be fully compatible with Windows.
Photos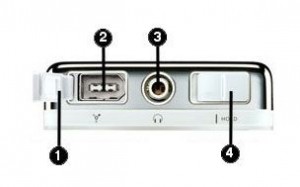 Specifications
Capacity: 10 or 20 GB hard drive
Input/Output: FireWire, 3.5-mm stereo headphone jack
Connectivity: FireWire 400
Controls: play/pause, next title, previous title, menu, select, hold, touch wheel
Display: 2-inch (diagonal) LCD with white LED backlight
Colors: White
Accessories: Remote control, carrying case, earbud headphones, AC adapter, FireWire cable. PC models include 4-pin to 6-pin FireWire adapter
Weight and Dimensions (US): 6.5 ounces (10 GB), 7.2 ounces (20 GB), 4.02" H x 2.43" W x 0.72" D (10 GB), 4.02" H x 2.43" W x 0.84" D (20 GB)
Weight and Dimensions (Metric): 185 g (10 GB), 204 g (20 GB), 101.6 mm H x 61.8 mm W x 18.9 mm D (10 GB), 101.6 mm H x 61.8 mm W x 21.3 mm D (20 GB)
Current Software: 1.5
Audio Formats: AAC, MP3, MP3 (VBR), Audible, WAV, and AIFF
Photo Formats: None
Video Formats: None
iPod Games: None
Battery: Built-in rechargeable lithium polymer battery (1200 mAh)
Charge Time: Up to 3 hours
Power: 6-pin FireWire or power adapter: 100V to 240V at 0.4 A max
Playtime: 10 hours
Operating Temperature: 32 to 113 deg. F (0 to 45 deg. C)
Storage Temperature: -4 to 158 deg. F (-20 to 70 deg. C)
Relative Humidity: 5% to 95% noncondensing
Altitude (US): 10,000 feet
Altitude (Metric): 3,000 m
Timeline
Introduced in July 2002, the iPod with touch wheel was replaced with newer models in April 2003.
Videos