iPod with scroll wheel
Introduced: October 2001
Terminated: July 2002
Description
A hard disk-based digital music player, the iPod was Apple's entry into the world of portable music. It contained a 1.8" had disk in a white casing. It had a 5Gb hard drive, a FireWire input/output and a 3.5 mm stereo headphone jack. There was a 2-inch grayscale LCD that was backlight. Operation was via a scroll wheel. It was packaged with earbud headphones, an AC adapter and a FireWire cable. The PC model included a 4 pin to 6 pin FireWire Adapter.
History
As the world of portable devices was taking off, Apple strategists noted that there was not a strong runner in digital music players. Those existing suffered from poor design and terrible user interfaces. Based on that, Apple determined to develop their own.
The iPod was smaller than other existing hard disk based MP3 players, but it had storage capacities far beyond the existing flash-based players of the time. Additionally, the iPod's user interface was far superior to any that were available at the time. The original price was $399.
The launch of the iPod line would prove to be one of Apple's most successful ventures. The iPod dominance of the MP3 player market was untouched and would eventually extend into the development of the iTunes Music Store and the digital sale of music by Apple.
Photos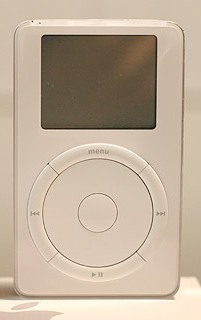 Specifications
Capacity: 5 or 10 GB hard drive
Input/Output: FireWire, 3.5-mm stereo headphone jack
Connectivity: FireWire 400
Controls: play/pause, next title, previous title, menu, select, hold, scroll wheel
Display: 2-inch (diagonal) LCD with white LED backlight
Colors: White
Accessories: Earbud headphones, AC adapter, FireWire cable. PC model includes 4-pin to 6-pin FireWire adapter.
Weight and Dimensions (US): 6.5 ounces, 4.02" H x 2.43" W x 0.78" D
Weight and Dimensions (Metric): 184.2 g, 101.6 mm H x 61.8 mm W x 19.9 mm D
Current Software: 1.5
Audio Formats: AAC, MP3, MP3 (VBR), Audible, WAV, and AIFF
Photo Formats: None
Video Formats: None
iPod Games: None
Battery: Built-in rechargeable lithium polymer battery (1200 mAh)
Charge Time: Up to 3 hours
Power: 6-pin FireWire or power adapter: 100V to 240V at 0.4 A max
Playtime: 10 hours
Operating Temperature: 32 to 113 deg. F (0 to 45 deg. C)
Storage Temperature: -4 to 158 deg. F (-20 to 70 deg. C)
Relative Humidity: 5% to 95% noncondensing
Altitude (US): 10,000 feet
Altitude (Metric): 3,000 m
Timeline
Introduced in October 2001, a 10Gb model was added in March 2002. A new model replaced the iPod with scroll wheel in July 2002.
Videos