iPod shuffle (2nd Generation)
Introduced: September 2006
Terminated: n/a
Description
The second generation of the iPod shuffle was redesigned so that a clip mechanism was incorporated into the design. It has a 1Gb flash drive and is available in blue, pink, green, orange and silver. Using a dock to connect instead of an integrated USB connection helped to make the iPod shuffle very small.
History
The new iPod shuffle was smaller and cooler than the original. The 1Gb player was available for $79.
Photos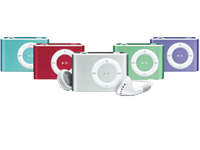 Specifications
Capacity: 1.0 GB flash drive
Input/Output: 3.5-mm headphone jack
Connectivity: USB 1.1 or 2.0 through included USB dock
Controls: play/pause, next title, previous title, volume
Display: None
Colors: Blue, pink, green, orange, and silver
Accessories: Earphones, dock
Weight and Dimensions (US): 0.55 ounce, 1.07" H x 1.62" W x 0.41" D
Weight and Dimensions (Metric): 15.5 g, 27.3 mm H x 41.2 mm W x 10.5 mm D
Current Software: 1.0.2
Audio Formats: AAC, MP3, MP3 VBR, Audible, WAV
Photo Formats: None
Video Formats: None
iPod Games: None
Battery: Built-in rechargeable lithium polymer battery
Charge Time: About 4 hours
Power: Charging via included USB dock
Playtime: Up to 12 hours when fully charged
Operating Temperature: 32 to 95 deg. F (0 to 35 deg. C)
Storage Temperature: -4 to 113 deg. F (-20 to 45 deg. C)
Relative Humidity: 5% to 95% noncondensing
Altitude (US): 10,000 feet
Altitude (Metric): 3,000 m
Timeline
The second generation of the iPod shuffle was introduced in September 2006.
Videos