iPod photo
Introduced: October 2004
Terminated: June 2005
Description
The iPod photo was the first iPod to feature a color screen. It had a two inch backlight LCD that could display 65,536 colors. It combined its abilities as an MP3 player with the ability to store and display images in a variety of formats. The two original configurations were a 40Gb model and a 60Gb model.
History
Initially introduced as a higher-end iPod, the iPod photo brought a bright color screen to the iPod line. Apart from the new screen, the iPod photo was almost exactly the same as the fourth-generation click wheel iPods introduced earlier in the year.
One of the most noteworthy features of the iPod photo was that it was the first iPod able to boast a battery life of up to 15 playing hours.
Photos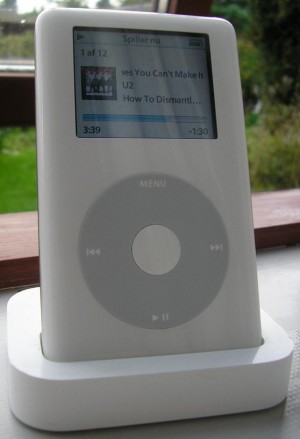 Specifications
Capacity: 30, 40, or 60 GB hard drive
Input/Output: Dock and Remote connectors, 3.5-mm headphone jack
Connectivity: FireWire 400 and USB 2.0 through dock connector
Controls: play/pause, next title, previous title, menu, hold, click wheel
Display: 2-inch (diagonal) 65,536-color LCD with LED backlight
Colors: White
Accessories: Earbud headphones, iPod USB Power Adapter, Dock Connector to USB 2.0 cable
Weight and Dimensions (US): 6.4 ounces, 4.1" H x 2.4" W x 0.75" D (40/60 GB) 5.9 ounces, 4.1" W x 2.4" H x 0.63" D (30 GB)
Weight and Dimensions (Metric): 181 g, 10.4 cm H x 6.1 cm W x 1.91 cm D (40/60 GB) 167 g, 10.4 cm H x 6.1 cm W x 1.6 cm D (30 GB)
Current Software: 1.2.1
Audio Formats: AAC, MP3, MP3 VBR, Audible, Apple Lossless, AIFF, WAV
Photo Formats: JPEG, BMP, GIF, TIFF and PNG
Video Formats: None
iPod Games: None
Battery: Built-in rechargeable lithium ion battery
Charge Time: Up to 5 hours (up to 3-hour fast charge to 80% capacity)
Power: Charging via FireWire, USB 2 (high power) or power adapter
Playtime: Up to 15 hours of music; up to 5 hours of slideshows with music
Operating Temperature: 32 to 113 deg. F (0 to 45 deg. C)
Storage Temperature: -4 to 158 deg. F (-20 to 70 deg. C)
Relative Humidity: 5% to 95% noncondensing
Altitude (US): 10,000 feet
Altitude (Metric): 3,000 m
Timeline
Introduced in October 2004, the 40Gb model was discontinued in February 2005 in favor of a lower priced 30Gb configuration. The price on the 60Gb configuration was also dropped. The iPod photo was merged with the regular iPod line in June 2005.
Videos