iPod nano
Introduced: September 2005
Terminated: September 2006
Description
The iPod nano replaced the iPod mini. It was a flash based MP3 player rather than a hard drive based player like the rest of the iPod line. It was available with 2 or 4Gb of space, had a high-resolution 1.5" color LCD and was much smaller than the iPod mini. It shipped with earbud headphones, a USB cable and a dock adaptor. It was available in black or white.
History
The decision to replace the iPod nano was a bold one for Apple: the mini was selling well. However, the much smaller iPod nano had a look and a feel more suited to the color display iPods. Although they had smaller amounts of storage, the iPod nano's sleek style, color screen and small size made it a hit with buyers.
Photos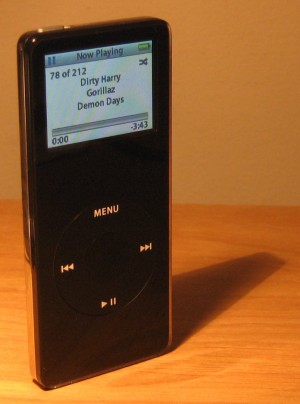 Specifications
Capacity: 1.0, 2.0 or 4.0 GB flash drive
Input/Output: Dock connector, 3.5-mm headphone jack
Connectivity: USB through Dock connector
Controls: play/pause, next title, previous title, menu, hold, click wheel
Display: 1.5-inch (diagonal) color LCD with LED backlight
Colors: White or Black
Accessories: Earbud headphones, USB cable, Dock Adapter
Weight and Dimensions (US): 1.5 ounces, 3.5" H x 1.6" W x 0.27" D
Weight and Dimensions (Metric): 42.5 g, 88.9 mm H x 40.6 mm W x 6.9 mm D
Current Software: 1.3.1
Audio Formats: AAC, MP3, MP3 VBR, Audible, Apple Lossless, AIFF, WAV
Photo Formats: JPEG, BMP, GIF, TIFF, PSD (Mac only) and PNG
Video Formats: None
iPod Games: None
Battery: Built-in rechargeable lithium ion battery
Charge Time: About 3 hours (1.5-hour fast charge to 80% capacity)
Power: Charging via FireWire, USB 2 (high power), or power adapter
Playtime: Up to 14 hours of music; up to 4 hours of slideshows with music
Operating Temperature: 32 to 95 deg. F (0 to 35 deg. C)
Storage Temperature: -4 to 113 deg. F (-20 to 45 deg. C)
Relative Humidity: 5% to 95% noncondensing
Altitude (US): 10,000 feet
Altitude (Metric): 3,000 m
Timeline
Introduced in September 2005, the iPod nano was replaced with a newer model in September 2006.
Videos