iPod nano (PRODUCT) RED Special Edition
Introduced: October 2006
Terminated: n/a
Description
A second-generation iPod nano in a special edition red case, the iPod nano (PRODUCT) RED Special Edition was available first with a 4Gb hard drive.
History
The iPod nano (PRODUCT) RED Special Edition was released as part of a large campaign for the Product Red initiative. For each iPod nano special edition sold, $10 was donated by Apple to the initiative.
Photos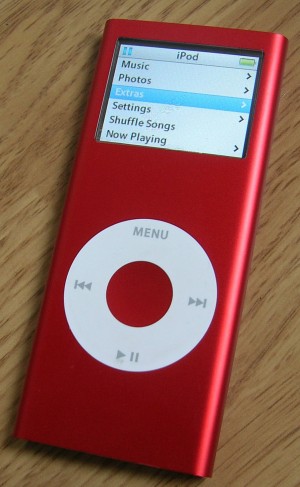 Specifications
Capacity: 4.0 or 8.0 GB flash drive
Input/Output: Dock connector, 3.5-mm headphone jack
Connectivity: USB through Dock connector
Controls: play/pause, next title, previous title, menu, hold, click wheel
Display: 1.5-inch (diagonal) color LCD with LED backlight
Colors: Red
Accessories: Earphones, USB cable, dock adapter
Weight and Dimensions (US): 1.41 ounces, 3.5" H x 1.6" W x 0.26" D
Weight and Dimensions (Metric): 40 g, 88.9 mm H x 40.6 mm W x 6.6 mm D
Current Software: 1.1.3
Audio Formats: AAC, MP3, MP3 VBR, Audible, Apple Lossless, AIFF, WAV
Photo Formats: JPEG, BMP, GIF, TIFF, PSD (Mac only) and PNG
Video Formats: None
iPod Games: None
Battery: Built-in rechargeable lithium ion battery
Charge Time: About 3 hours (1.5-hour fast charge to 80% capacity)
Power: Charging via FireWire, USB 2 (high power), or power adapter
Playtime: Up to 24 hours of music; up to 5 hours of slideshows with music
Operating Temperature: 32 to 95 deg. F (0 to 35 deg. C)
Storage Temperature: -4 to 113 deg. F (-20 to 45 deg. C)
Relative Humidity: 5% to 95% noncondensing
Altitude (US): 10,000 feet
Altitude (Metric): 3,000 m
Mac mini (Early 2006)
Codename: "Kaleidoscope"
Introduced: February 2006
Discontinued: September 2006
Machine ID: Macmini1,1
Model Number: A1176
Order Number: MA205LL/A (1.5 GHz), MA206LL/A (1.66 GHz)
Support Status: Supported
Processor: Intel Core Solo or Core Duo ("Yonah")
Processor Speed: 1.5 GHz (Core Solo) or 1.66 GHz (Core Duo)
Benchmarks: 1.5 GHz: 1399, 1.66 GHz: 2110
Cache: 2 MB on-chip L2 cache
System Bus: 667 MHz
Hard Drive: 60, 80, 100 or 120 GB 5400-rpm
Media: 8x24x16x24x DVD/CD-RW Combo or 8x SuperDrive (DVD+R DL/DVD±RW/CD-RW)
Peripherals: Apple Remote
Weight and Dimensions (US): 2.9 lbs., 2" H x 6.5" W x 6.5" D
Weight and Dimensions (Metric): 1.31 kg, 5.08 cm H x 16.51 cm W x 16.51 cm D
Original Mac OS: Mac OS X 10.4.5 (8H1619)
Later Mac OS: Mac OS X 10.4.6 (8I2025)
Maximum Mac OS: Latest release of Mac OS X
Hardware Test: AHT 3A102
Firmware: Intel Extensible Firmware Interface (EFI)
Firmware Update: Mac mini EFI Firmware Update 1.1
Firmware Update URL: http://www.apple.com/support/downloads/macminiefifirmwareupdate11.html
Logicboard RAM: None
Maximum RAM: 2.0 GB
Type of RAM Slots: 2 - 200-pin PC2-5300 (667MHz) DDR2 SO-DIMM
Minimum RAM Speed:—
Interleaving Support: Yes
Graphics Card: Intel Graphics Media Accelerator (GMA) 950
ATI Card Model:—
Graphics Connection:—
Graphics Memory: 64 MB DDR2 (shared with main memory, minimum memory usage is 80 MB)
Built-in Display: None
Resolutions: DVI output up to 1920 x 1200 or VGA output up to 1920 x 1080
Display Connection: DVI (VGA or S-video with adapter)
Expansion Slots: None
Hard Drive Bus: 1.5 Gbps Serial ATA (SATA)
Large Drive Support: Yes (128 GB or larger per drive)
Backup Battery: 3 V Lithium (922-6476)
Max Watts: 110W
Line Voltage: 100-240V AC
AirPort: Built-in AirPort Extreme card (802.11b/g)
Bluetooth: Built-in Bluetooth 2.0 + EDR
Ethernet: 10/100/1000BASE-T (RJ-45) (support for jumbo frames)
Infrared: 1 - For Apple Remote only
Modem: Optional Apple USB Modem (MA034Z/A)
USB: 4 - 480 MBit/s
FireWire: 1 - 400 MBit/s (8W)
Audio In: 1 - 3.5-mm analog/optical input jack
Audio Out: 1 - 3.5-mm analog/optical combo jack, 1 - Built-in speaker
Timeline
The iPod nano (PRODUCT) RED Special Edition was introduced in October 2006. In November 2006, an 8Gb configuration was released.
Videos